Watch the bowdlerized YouTube version of FFWN above, or the full uncensored show HERE
Let's start with the headlines for this Halloween weekend.
"In our top story, Anthony Fauci has announced that the CDC, in  a joint project with DHS, CIA, NSA, LSD, PCP, and other three-letter agencies, will be sending ghouls, goblins, witches, zombies, orcs, and other unpleasant creatures door-to-door to vax people…
"The CDC has also announced that it will be providing apples with vaccine needles in them to pro-vaccine activists who wish to trick neighborhood children into accidentally injecting themselves with experimental gene therapy. It's the night of the living vaxxed, folks! Legions of brainwashed undead are roaming around shrieking 'must eat unvaxxed brains!' So stock up on silver bullets and wooden stakes or whatever it is that works best against these monsters according to the latest peer-reviewed double-blind studies financed by Pfizer, Moderna, and the Anthony and Melinda Fauci Bat Coronavirus Gain of Function Foundation. As the saying goes, trust the Psy-ops! I mean, the Science!"
Fast forward to the YouTube-friendly portion of the show:
HEY VACCINE SKEPTICS! BETTER LOCK YOURSELVES IN YOUR HOMES AND BAR THE DOORS! THE VACCINE ZOMBIES ARE COMING TO EAT YOUR BRAINS! AND ONE OF THE SCARIEST VACCINE ZOMBIES IS THIS MONSTER HERE WHO VAGUELY RESEMBLES THE DECOMPOSING CORPSE OF…NOAM CHOMSKy? WAIT A MINUTE, THAT IS NOAM CHOMSKY! I USED TO FRIGHTEN PEOPLE WITH MY DICK CHENEY MASK…WHO WOULD HAVE GUESSED THAT NOAM CHOMSKY WOULD BECOME ALMOST EQUALLY MONSTROUS?
More proof that vaccines turn people into brain-dead zombies: The new CDC study purporting to show that vaccines protect better than natural immunity. Like NIST trying to show that the Twin Towers and Building 7 just randomly fell down from relatively minor office fires, or CIA torturers making Khalid Sheik Mohammed confess to every crime since the Lindbergh baby kidnapping, the CDC knew the result it wanted in advance, and tweaked, or rather tortured, the data to make it scream whatever its torturers wanted.
As Alex Berenson explains, the study looked at 200,000 people hospitalized for COVID symptoms and found only a minuscule subset among whom natural immunity apparently failed:
"Only about 1,000 people out of the 200,000 people hospitalized for Covid-like illnesses over the eight months had a previous documented Covid infection. (Given the fact that at least 20 percent of Americans, and probably more like 40 percent, had had Covid by the spring of 2021, this is a strikingly small percentage – and certainly doesn't suggest long Covid is much of a threat.)

"And only 89 of those 1,020 people with natural immunity tested positive."
So out of 200,000 studied, 89 (fewer than 1 in 2000, probably too few for a statistically significant result) were people whose natural immunity failed to the point that they tested positive. To get the spin on this it wanted, the CDC tweaked its risk ratio with unspecified "facility characteristics [and] sociodemographic characteristics" (shades of WTC-7's "thermal expansion") and VOILA! The numbers magically showed that people in the brief "happy valley of vaccination," at least before the vaccine-created variant plague came along, were less likely to test positive than people with natural immunity.
All of this is in glaring contradiction to much bigger and better studies and the latest real-world data.
Now I understand that certain people think "noble lies" about vaccine efficacy and natural immunity are necessary, because if we expose the full truth about how imperfect experimental gene therapy really is, and how it really compares to natural immunity, a great many people will become vax refuseniks, and the result will be a significantly worse public health outcome—meaning a lot of people will die unnecessarily.
To which I respond by quoting Alan Sabrosky quoting Lt. Gen Bernard C. "Mick" Trainor, USMC (Ret.):
Sometimes you have to lie to others to buy time to deal with a problem.
But never lie to yourself.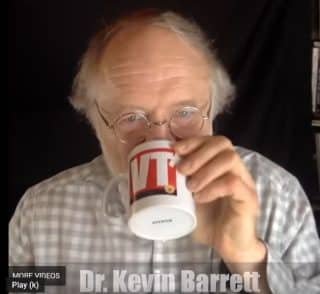 Dr. Kevin Barrett, a Ph.D. Arabist-Islamologist is one of America's best-known critics of the War on Terror.
He is the host of TRUTH JIHAD RADIO; a hard-driving weekly radio show funded by listener subscriptions at Substack and the weekly news roundup FALSE FLAG WEEKLY NEWS (FFWN).
He also has appeared many times on Fox, CNN, PBS, and other broadcast outlets, and has inspired feature stories and op-eds in the New York Times, the Christian Science Monitor, the Chicago Tribune, and other leading publications.
Dr. Barrett has taught at colleges and universities in San Francisco, Paris, and Wisconsin; where he ran for Congress in 2008. He currently works as a nonprofit organizer, author, and talk radio host.
ATTENTION READERS
We See The World From All Sides and Want YOU To Be Fully Informed
In fact, intentional disinformation is a disgraceful scourge in media today. So to assuage any possible errant incorrect information posted herein, we strongly encourage you to seek corroboration from other non-VT sources before forming an educated opinion.
About VT
-
Policies & Disclosures
-
Comment Policy
Due to the nature of uncensored content posted by VT's fully independent international writers, VT cannot guarantee absolute validity. All content is owned by the author exclusively. Expressed opinions are NOT necessarily the views of VT, other authors, affiliates, advertisers, sponsors, partners, or technicians. Some content may be satirical in nature. All images are the full responsibility of the article author and NOT VT.