On the cover Bill Gates and Jeff Bezos when played in a charity celebrity tennis match
by Fabio Giuseppe Carlo Carisio
Not just Big Pharma. Bill Gates' irrepressible business continues to take root more and more in the nerve centers of power. Through funding provided by the Bill & Melinda Gates foundation, it has supported the dangerous experiments on superviruses in the laboratory of the Wuhan Institute of Virology but also in the multinationals that have built the anti-Covid vaccines.
Documents Show Bill Gates (Vaccines Big Pharma's Partner) Has Given $319 Million to Media Outlets. Earlier Funded SARS Dangerous Tests
Gates, through substantial funding to the international management firm McKinsey, has influenced personnel reform in American intelligence agencies (NSA and CIA) as well as in the WHO. Not only. In Italy, McKinsey herself has prepared the plan to use the Next Generation European Union funds, allocated by Brussels for the relaunch of EU countries after the pandemic.
Finally, MIcrosoft has become the preferred partner in the field of Artificial Intelligence of the Italian state-owned defense systems manufacturing industry Leonardo spa (of which the New York investment fund BlackRock is also a shareholder).
Biden Hides Secrets on JFK Assassination. Delayed the Release of Sealed Records. RFK jr: "Outrage against American Democracy"
Now, with the Cloud superproject, he is preparing to manage the secrets of the Pentagon (US Department of Defense), alongside his friend Jeff Bezos (Amazon owner).
Why can this contract be so relevant? Because whoever controls the most sensitive information of a state for years can become more influential than the same politicians who will be chosen by any electoral system….
---
DoD picks Amazon, Microsoft, Google and Oracle for multibillion dollar project to replace JEDI Cloud
by Federal News Network
The Defense Department on Friday issued formal solicitations to Amazon Web Services, Microsoft, Google and Oracle for its highly-anticipated Joint Warfighting Cloud Capability (JWCC) program, the multibillion dollar project intended to replace its ill-fated JEDI Cloud contract.
The decision followed several months of market research, and represented a change from DoD's previous plans from its new multi-award approach. In July, when it cancelled the JEDI contract — short for Joint Enterprise Defense Infrastructure — officials said they believed that only Amazon and Microsoft had the technical capabilities to meet their needs under JWCC.
"The DoD studied the commercial cloud market and assessed capability statements that were submitted by cloud service providers and any follow-up communications provided to the department," Russell Goemaere, a Pentagon spokesman, said in a statement. "We assessed each CSP's service and capability offerings as they related to the department's unfulfilled warfighting needs, enduring capability gaps, high-level JWCC requirements, and each CSP's ability to meet the JWCC capability delivery schedule. We also collaborated with DoD stakeholders from the military services, combatant commands, principal staff assistants, defense agencies, and field activities to survey requirement owners about what they would want to see in an enterprise level cloud offering."
NWO's Plot vs Italy (X-file 2). New IT Minister among Bilderberg, McKinsey, Gates & CIA for Artificial Intelligence in Vaccines too
John Sherman, DoD's then-acting CIO said in July that he intended to engage in discussions with all five U.S.-based "hyperscale" cloud providers before the department made a final decision. It wasn't immediately clear why IBM, the fifth provider DoD consulted, did not receive its own solicitation. In a statement, the company said it would "continue pursuing opportunities to support JWCC," without elaborating.
The decision to include Oracle was particularly noteworthy, as that firm had been a thorn in DoD's side throughout most of the JEDI Cloud contracting process. Oracle filed numerous pre-award and post-award legal challenging its exclusion from JEDI, eventually taking the matter to the U.S. Supreme Court, which declined to hear the case earlier this year.
"Oracle is delighted to be included in the Joint Warfighter Cloud Capability," said Deborah Hellinger, a company spokeswoman.  "We are committed to delivering the highest level of security, performance, and value in enterprise cloud applications and cloud infrastructure in support of DoD's warfighter mission."
NWO CONTRO L'ITALIA – 5. In mano a McKinsey-Gates anche i 209 miliardi del piano UE Next Generation
Google said earlier this month that it would be interested in pursuing work under the JWCC contract, if DoD picked it for one of the directed solicitations.
"If selected as one of the compliant vendors, we will proudly work with the DoD to help them modernize their operations following the process we have in place for working with our customers, including the processes we've developed around our AI Principles," Thomas Kurian, Google Cloud's CEO wrote in a Nov. 11 blog post. "When the JEDI RFP was issued, Google Cloud was not in a position to bid. First and foremost, our technologies were not ready to meet the various classification levels and other technical requirements necessary to compete."
Friday's solicitations are not contract awards — at least not yet. DoD still must negotiate separate indefinite-delivery/indefinite-quantity contracts with each company, a process the department expects to finalize by the third quarter of Fiscal 2022.
And the fact that a company received a solicitation isn't a guarantee that they will be awarded a contract, Defense officials told Federal News Network on Friday. That clarification appeared to be at least one significant change to DoD's previous intent. In a presolicitation notice the department published on Aug. 3, officials said they would negotiate with and award contracts to all of the companies that their market research determined to be "responsible vendors."
In Gates' Hands even Italian Military Artificial Intelligence. Leonardo-Microsoft Deal and Dems intrigues through 007 and Pandemic
Once the contracts are formally in place, the Pentagon expects to start using JWCC to deliver unclassified cloud services 30 days after the awards, secret-level services after 60 days, and top-secret services after 180 days.
Aside from being a multiple-award construct rather than single-award, it's not yet clear how substantially the JWCC project will differ from the department's initial vision from JEDI. The department on Friday declined to make public the solicitation documents it sent to vendors. Thus far, the only documentation DoD has released has been the August presolicitation notice it published at the start of its market research process for JWCC.
"At a high level, the JWCC requirements include providing capability and parity of service at all three classification levels, integrated cross domain solutions, global availability of tactical edge environments and enhanced cybersecurity controls," Danielle Metz, DoD's deputy chief information officer for information enterprise said in a statement.
A spokeswoman for Microsoft declined to comment on Friday's announcement. In a brief statement, Amazon said it looked forward to supporting the military as part of the contract. "We look forward to continuing to support the DoD's modernization efforts and building solutions that help accomplish their critical missions," the company said.
WUHAN-GATES – 25. At Us Intelligence's Top the Prophetess of Pandemic & NWO. Biden rewards ex CIA Haines: led Gates' Drill Event 201
The three-year delay and eventual cancellation of the JEDI program has meant that each of the military departments have now created their own contractual mechanisms to buy and manage cloud services. The Air Force built a program called Cloud One, along with a cloud-conscious DevSecOps software development environment called Platform One.
The Army, meanwhile, stood up its own Enterprise Cloud Management Agency to manage its contracts with cloud service providers, and the Navy has done much the same by consolidating its cloud activities within a new Cloud Service Management Organization.
WEAPONS LOBBY – 5. NWO's Warfare Plan against Russia and Counter-Information. CEPA Project from Washington with NATO-EU & Defense Corporations
The Pentagon said on Friday that JWCC is not intended to supplant the work the military services have already done to incorporate commercial cloud into their IT service offerings — at least not in the near-term.
"But as the department continues to mature and evolve in its use of cloud technologies, opportunities will arise to assess current cloud offerings against the current and future needs of the department and our warfighters," a Defense official said. "We will work with the military services as their cloud service contracts come to a close to drive future adoption of JWCC and institute an enterprise cloud offering that the entire department can utilize."
by Jared Serbu
Originally published by Federal News Network
---
Jared Serbu is deputy editor of Federal News Network and reports on the Defense Department's contracting, legislative, workforce and IT issues. Follow @jserbuWFED
---
Note: all links to Gospa News articles has been added by Gospa News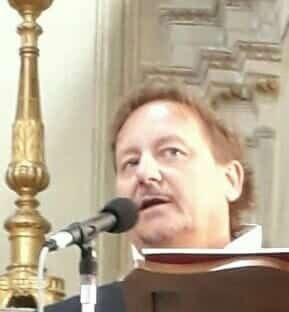 Fabio is Director and Editor of Gospa News; a Christian Information Journal.
Fabio Giuseppe Carlo Carisio, born on 24/2/1967 in Borgosesia, started working as a reporter when he was only 19 years old in the alpine area of Valsesia, Piedmont, his birth region in Italy. After studying literature and history at the Catholic University of the Sacred Heart in Milan, he became director of the local newspaper Notizia Oggi Vercelli and specialized in judicial reporting.
For about 15 years he is a correspondent from Northern Italy for the Italian newspapers Libero and Il Giornale, also writing important revelations on the Ustica massacre, a report on Freemasonry and organized crime.
With independent investigations, he collaborates with Carabinieri and Guardia di Finanza in important investigations that conclude with the arrest of Camorra entrepreneurs or corrupt politicians.
In July 2018 he found the counter-information web media Gospa News focused on geopolitics, terrorism, Middle East, and military intelligence.
His articles were published on many international media and website as SouthFront, Reseau International, Sputnik Italia, United Nation Association Westminster, Global Research, Kolozeg and more…
His investigations was quoted also by The Gateway Pundit, Tasnim and others
He worked for many years for the magazine Art & Wine as an art critic and curator.
ATTENTION READERS
We See The World From All Sides and Want YOU To Be Fully Informed
In fact, intentional disinformation is a disgraceful scourge in media today. So to assuage any possible errant incorrect information posted herein, we strongly encourage you to seek corroboration from other non-VT sources before forming an educated opinion.
About VT
-
Policies & Disclosures
-
Comment Policy
Due to the nature of uncensored content posted by VT's fully independent international writers, VT cannot guarantee absolute validity. All content is owned by the author exclusively. Expressed opinions are NOT necessarily the views of VT, other authors, affiliates, advertisers, sponsors, partners, or technicians. Some content may be satirical in nature. All images are the full responsibility of the article author and NOT VT.