CLAIM
the pandemic was planned; the COVID-19 vaccines are experimental; previously infected people have "permanent immunity"; VAERS shows vaccines killed thousands of people, vaccine-induced spike protein causes damage
VERDICT


SOURCE: Peter McCullough, The Joe Rogan Experience, 13 Dec. 2021   
DETAILS
Inaccurate: The COVID-19 vaccines aren't experimental. Their safety and efficacy were demonstrated in clinical trials that involved tens of thousands of people. Previously infected people don't have "permanent immunity", given that reinfections can and have occurred.
Unsupported: No evidence was presented for the assertions that the pandemic was planned or that scientists and/or public health authorities are conspiring to prevent people from getting early treatment. There's also no evidence for the claim that the spike protein generated by mRNA vaccination is dangerous.
KEY TAKE AWAY
To date, more than 241 million people in the U.S. have received at least one dose of COVID-19 vaccine. Clinical trials as well as the safety monitoring of COVID-19 vaccination campaigns provide overwhelming evidence that the vaccines' benefits far outweigh their risks. There's no evidence indicating that the amount of spike protein generated by mRNA vaccination is dangerous. The use of multiple doses of COVID-19 vaccines isn't unusual or unprecedented; some childhood vaccines that have been used for decades also require four or more doses for complete immunization.
FULL CLAIM: the pandemic was planned; the COVID-19 vaccines are experimental; previously infected people have "permanent immunity"; masks don't work; using three or four doses of vaccine is "wild"; VAERS shows vaccines killed thousands of people, vaccine-induced spike protein causes damage, Omicron comes from vaccinated people
REVIEW
The Joe Rogan Experience, a podcast hosted by actor and comedian Joe Rogan, interviewed cardiologist Peter McCullough in December 2021. During the interview, which spanned about two hours and 45 minutes, McCullough made multiple inaccurate, misleading and/or unsubstantiated claims about the COVID-19 pandemic and the COVID-19 vaccines. This isn't the first time McCullough propagated health misinformation, as these earlier fact-checks by Health Feedback, Full Fact, and AFP show.
The interview went highly viral on social media. The link to the interview on Spotify received more than 21,000 engagements on Facebook, including more than 9,400 shares. A substantial number of engagements (more than 15,000) also came in from news aggregator and online forum Reddit. This excerpt, posted by the political activist group Young Americans for Liberty, received more than 95,000 views.
This review will cover some of the important claims made by McCullough in the interview.
Claim 1 (Inaccurate):
"The emergency use authorization is a new mechanism or a previously unused mechanism for regulatory pathways of drugs."
Contrary to McCullough's claim, the emergency use authorization (EUA) mechanism isn't new nor was it unused prior to the COVID-19 pandemic. EUAs have been issued by the U.S. Food and Drug Administration (FDA) for tests and medicines long before the pandemic, such as for Ebola and Zika virus, as this FDA page demonstrates.
Claim 2 (Unsupported):
"there was an intentional, very comprehensive suppression of early treatment in order to promote fear, suffering, isolation, hospitalization and death. And it seemed to be completely organized and intentional in order to create acceptance for and then promote mass vaccination."
"[I]t's pretty clear that this [pandemic] was planned."
Throughout the podcast, McCullough claimed the pandemic was planned or that public health authorities and/or scientists conspired for an unnamed reason to keep people from getting treatment. But he never provided any evidence to support these claims. These claims also made regular appearances in Plandemic, a two–part pseudodocumentary that went viral in 2020 and propagated baseless conspiracy theories about COVID-19.
Claim 3 (Inaccurate):
"If you want to see the Johns Hopkins planning seminar called the SPARS Pandemic in 2017, where they had a symposium, people showed up. They wrote up their symposium findings. They published this […] And we're going to utilize all that in order to railroad the population into mass vaccination. It's laid out in the Johns Hopkins SPARS pandemic training seminar"
The SPARS Pandemic scenario wasn't a seminar; rather, it is a "teaching and training resource" published by the Johns Hopkins University Center for Health Security. The document was developed as a self-guided exercise scenario that would enable public health communicators to better manage communication dilemmas regarding medical interventions introduced during a pandemic. The document can be read in full here.
At no point is it stated that the aim of the document is to "railroad the population into mass vaccination" as McCullough claimed. The SPARS Pandemic exercise asks those undertaking the exercise to consider challenges in communication for different kinds of situations that could arise during a pandemic, such as potential vaccine injuries, potential side effects of medical treatments, and the definition of priority groups for vaccines and treatments.
Claim 4 (Lacks context):
"Now they're saying, no. Now you have to have a third [dose]. And now they're considering a fourth, which is wild and there's no end in sight."
McCullough implied that having to take multiple doses of the COVID-19 vaccine is unusual or unprecedented. This isn't the case however, as certain childhood vaccines that have been used for decades, like the diphtheria vaccine and the polio vaccine, require four or more doses to complete immunization (see Figure 1).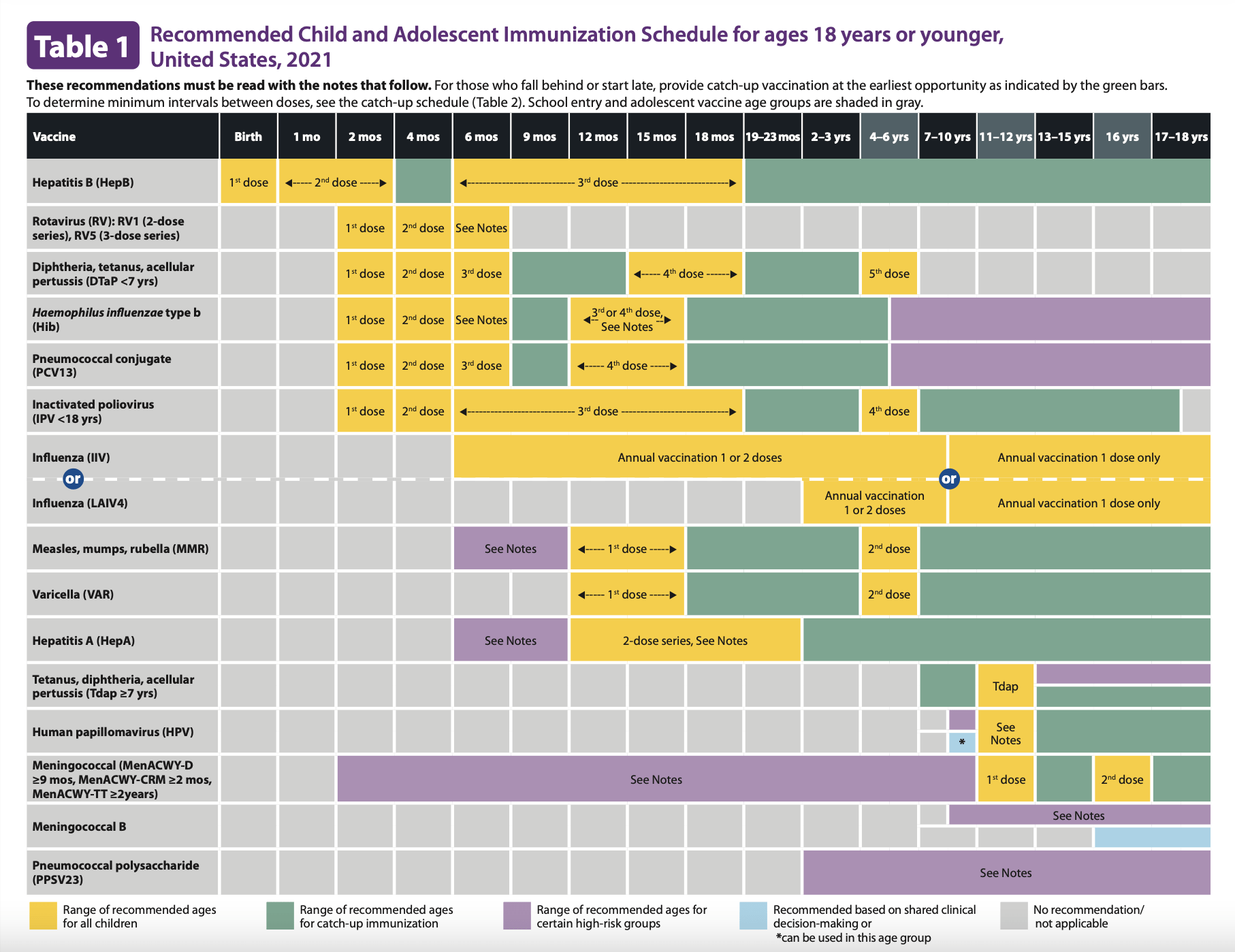 Figure 1. Recommended immunization schedule for children in the U.S., published by the CDC.
Claim 5 (Misleading):
"Masks only filter out about three microns. The virus is one micron."
The claim that masks don't work because the pore size is larger than the virus was a popular one in 2020. It was previously reviewed by Health Feedback and found to be misleading. The claim shows a lack of understanding about how virus transmission works. While it is true that a virus particle is smaller than one micron (a millionth of a meter) and thus smaller than the pore size of a mask, virus particles cannot travel in the air on their own. Instead, they need to be carried by liquid droplets, and these are larger than the pore sizes of masks. By blocking the liquid droplets, masks also block the spread of the virus contained within.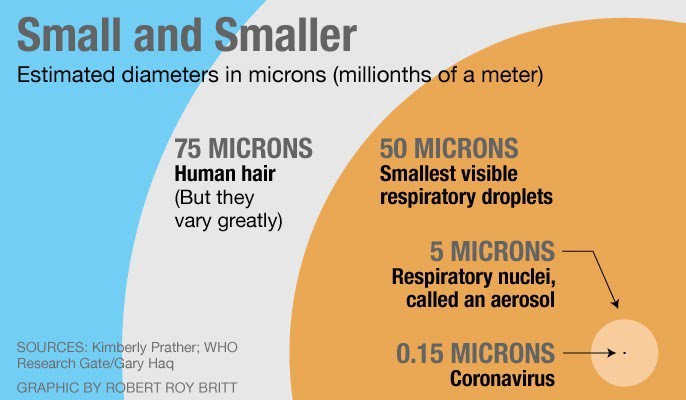 Claim 6 (Misleading and Imprecise):
"But one of the original antigenic vaccines that was tested in Australia exposed that HIV epitope. It turned everybody in the trial HIV positive, who took a Covid 19 vaccine in Australia. These young people were outraged. And so this was on the Internet. It was quickly suppressed."
This is a reference to a COVID-19 vaccine candidate that was being developed by scientists in Australia. Its development was ultimately halted, because certain people who received the vaccine in a safety trial had false-positive results from HIV diagnostic tests. This was because the vaccine candidate used a small portion of a protein from HIV to improve stability of the SARS-CoV-2 spike protein.  Read more…
Joe Rogan interview with Peter McCullough contains multiple false and unsubstantiated claims about the COVID-19 pandemic and vaccines
.
.
ATTENTION READERS
We See The World From All Sides and Want YOU To Be Fully Informed
In fact, intentional disinformation is a disgraceful scourge in media today. So to assuage any possible errant incorrect information posted herein, we strongly encourage you to seek corroboration from other non-VT sources before forming an educated opinion.
About VT
-
Policies & Disclosures
-
Comment Policy
Due to the nature of uncensored content posted by VT's fully independent international writers, VT cannot guarantee absolute validity. All content is owned by the author exclusively. Expressed opinions are NOT necessarily the views of VT, other authors, affiliates, advertisers, sponsors, partners, or technicians. Some content may be satirical in nature. All images are the full responsibility of the article author and NOT VT.