DISCLOSURE: Sourced from Russian government funded media
Sourced from Russian Independent Media
SVPressa: Occupied territories – this is how Donetsk and Luhansk call the part of Donbass occupied by the Ukrainian army, where on May 11, 2014 a referendum on independence from the pro-Western Bandera regime was held in Kyiv.
For eight years, citizens of the DPR and LPR, like all Russian patriots, dreamed of liberating these lands, which accounted for more than half of the territory of the Donbass republics. And here comes the release. Although, unfortunately, often this liberation comes with tears in our eyes and with much bloodshed. I had a chance to stay in the south of the DPR for several days and see with my own eyes how much it cost.
"Here they stood for many years, shelling our city," a local resident, writer Yuri Khoba , shows me at the trenches and pillboxes dug in the steppe near Dokuchaevsky .
There are no fresh traces of fierce battles around. The Ukrainian forces quickly retreated to the settlements to defend themselves there, hiding behind civilians. The first village liberated from the Armed Forces of Ukraine that I happened to see was Bugas. The village was founded by settlers from Greece, and until now, most of the inhabitants consider themselves descendants of the Hellenes. There is no visible damage here. If it were not for the huge line at the village council for pensions, nothing, at first glance, would have reminded of the battles.
A completely different picture is Volnovakha. Already on the outskirts you can smell the fires. Although the main fighting here ended a few weeks ago, their bitter smell still hangs over the city. In the private sector, the owners of houses where the windows just flew out or the roof broke through are considered lucky. Life is slowly trying to improve. Workers from Donetsk are patching up pipes to run gas through them.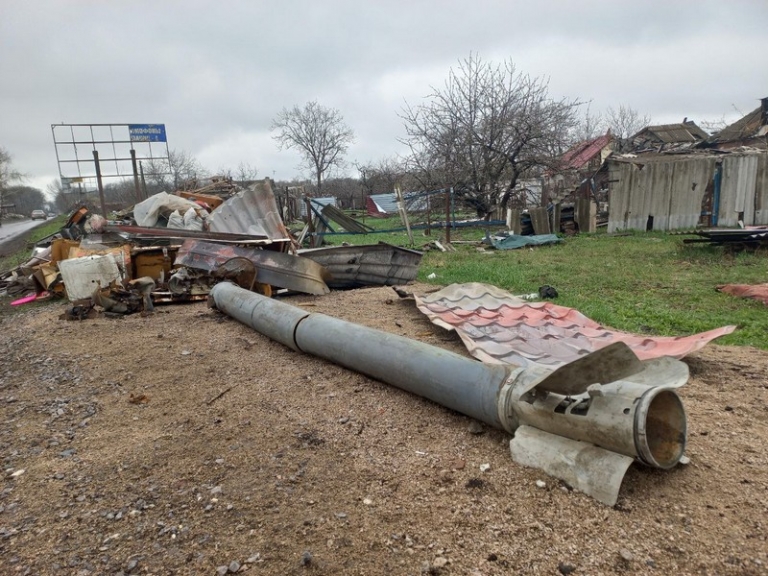 "In the private sector, we will soon let it go, it's not so difficult here," one of the workers tells me. "But in the center, it's not clear what to do there, many houses have been destroyed so that they need to be demolished, what kind of gas is there …".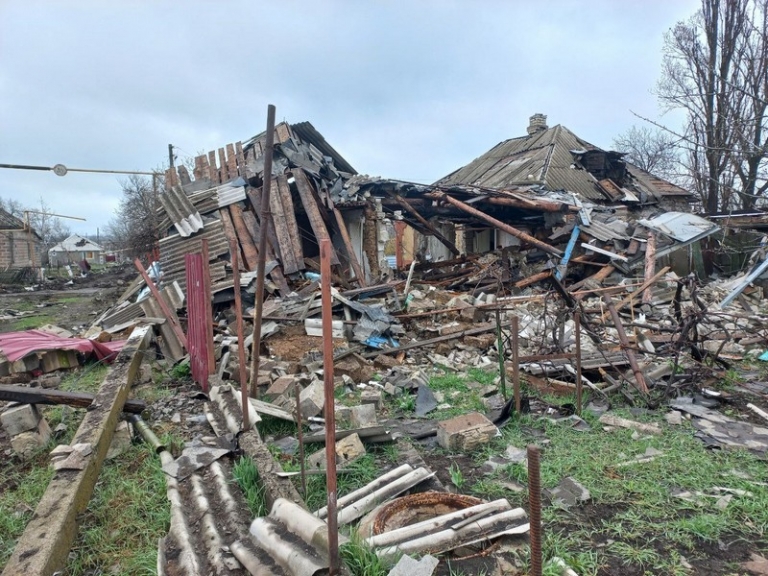 We're going downtown. It is one thing to see the devastation from the screen of a monitor or TV, and quite another to see it with your own eyes. I have seen similar destruction in 2014 in Lugansk and the village of Luganskaya. But there still their concentration was less. Here, the walls broken by shells, behind which someone's destroyed kitchens and bedrooms look out, lead to a state close to despair. The locals are already watching.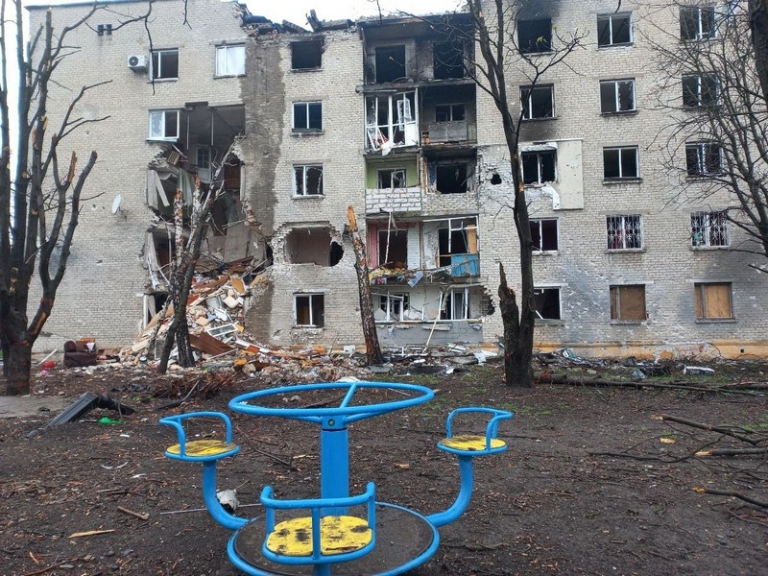 We notice a group of people with brooms and shovels.
"There are no jobs in the city, at the labor exchange everyone is sent to clear the rubble. They promise to pay 11 thousand, and I don't know how it will be there," says a local resident.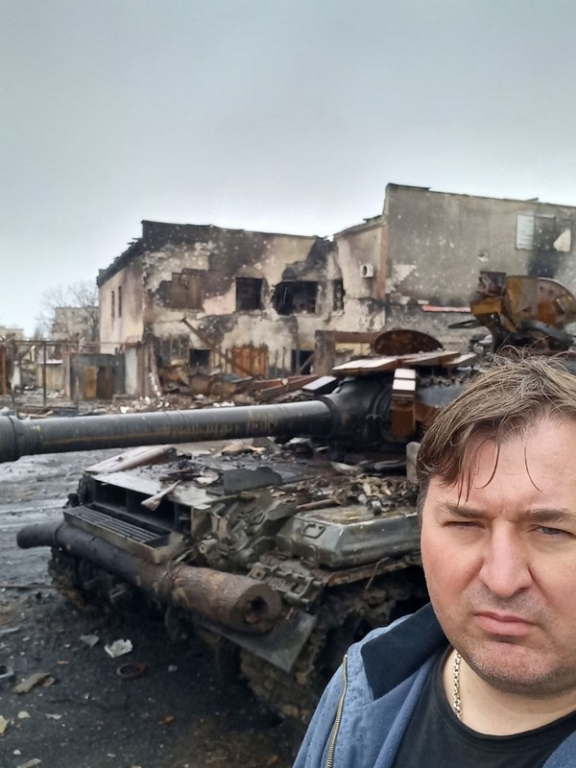 Her husband Roman agreed to tell the camera how the Ukrainian punishers behaved in Volnovakha.
"We specially drove between the houses on a tank and fired, provoked a 'response' from the soldiers of the DPR and Russia," he is indignant. – When our part of the city was already liberated, they shot at all the houses where smoke was coming from the chimneys. I have three children, I lit the stove to warm the children. And soon the mine broke through the roof. Miraculously, no one died. The youngest daughter is two years old. She still, as she hears a loud sound or just a car passing down the street, hides with her head under the covers, trying to "hide". No wonder the Ukrainian military said that when they left, they would not leave the city, but the lunar crater."
I look into the faces of the inhabitants of Volnovakha and see that their souls are still there, in the recently experienced hell. Roman also spoke about how the Ukronazis locked 70 people in the basement.
"They sat there for many days, food and water ran out," Roman recalls. "So some volunteers brought a couple of sacks of potatoes to this basement. They left it not far, they were afraid to approach the basement itself, because they thought that it was mined. Three of our guys ran out. They were immediately covered by a shell from the side where the APU was stationed. Two died on the spot, and one had a fragment right under the heart stuck. My mother-in-law is a doctor, she bandaged it, but she was afraid to pull out the shard. Fortunately, a few days later the guy managed to be sent to Donetsk to the hospital, where the fragment was pulled out. The guy is alive."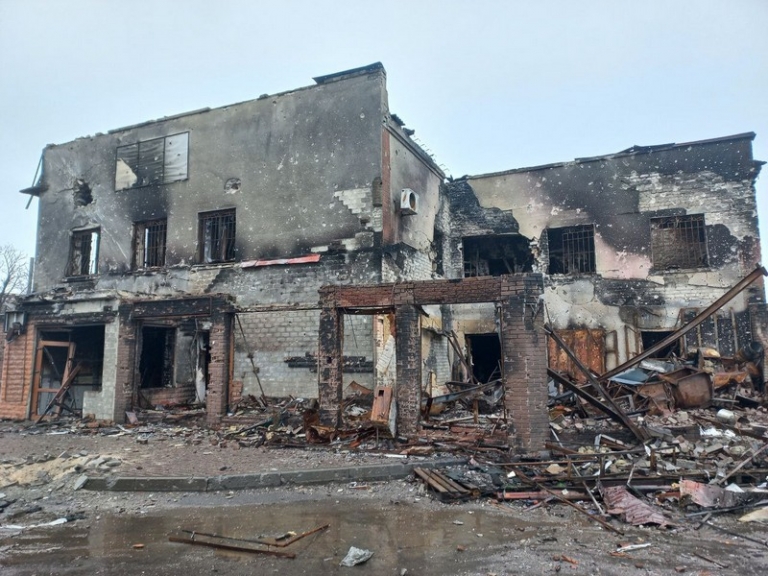 We go into the Transfiguration Church, broken by direct hits. Creepy. Just at this time, they find a mine shank stuck in the wall. It can explode, call the sappers of the Ministry of Emergency Situations, who are just nearby. The shank is pulled out, fortunately, it does not pose a danger. And the sappers keep working. I watch how they, without special ceremonies, pick out an unexploded shell from the ground with a crowbar …
We didn't come empty-handed. With donations collected by priests and parishioners of the Church of the Icon of the Mother of God of Smolensk in Fili-Davydkovo and the Church of St. Nicholas the Archangel in Balashikha, they bought a car of food and personal hygiene items. People rejoice at every can of stew and a pack of pasta. Sometimes to tears. To be honest, I had a prejudice that the inhabitants, processed by Ukrainian propaganda for eight years, would be hostile or wary towards us. But I saw normal Russian people in trouble.
We go to school number 5 Volnovakha. She is known for the fact that the first bell rang here the other day. Yes, this is how the countdown of a new era began here in April. The fact is that from now on, schooling will be in Russian. Ukrainian textbooks have already been archived, new ones have been brought from Donetsk.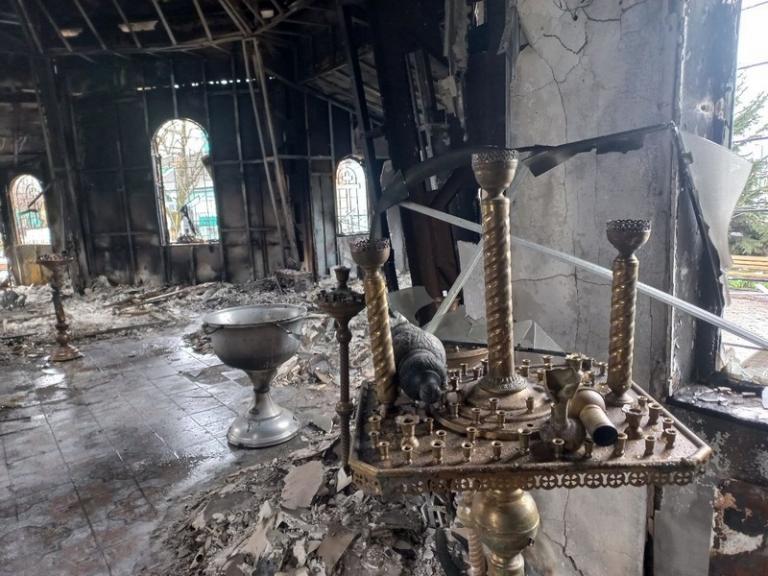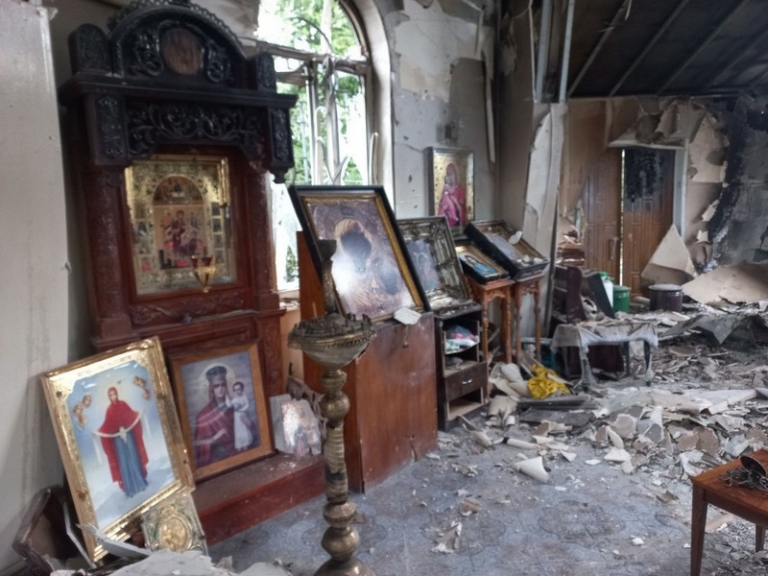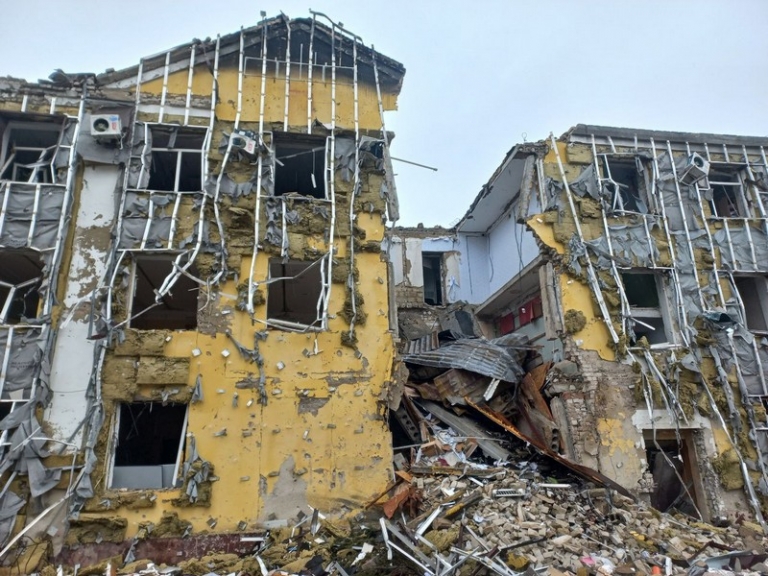 There is no electricity in the school, it is cold, the children sit in street clothes, but listen carefully. First-graders in syllables are diligently trying to read Korney Chukovsky . And the role of the bell is played by a bell with which the teacher walks around the floors where classes are taking place.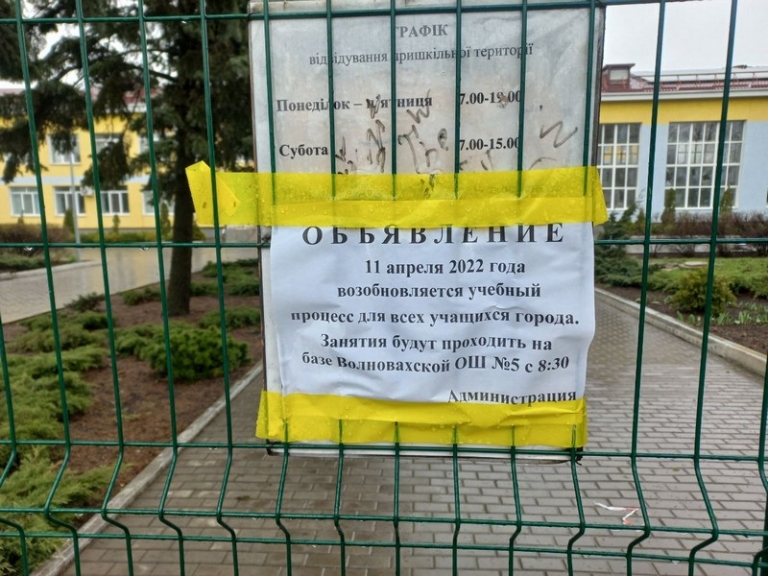 "This school suffered little from the shelling," Elena, a history teacher, tells us. "Therefore, children are now brought here from different parts of the city and district. And teachers from different places were transferred here. We have short sessions now. We give assignments to the children from the lower grades and immediately try to make them do them under our supervision. Because at home, who has a home, often there are no conditions for studying.
Some teachers at the school themselves were left without a roof over their heads, they still live in the surviving houses of neighbors who have left, and do not know what to do next.
— Well, how do you feel about Russia? I ask Elena.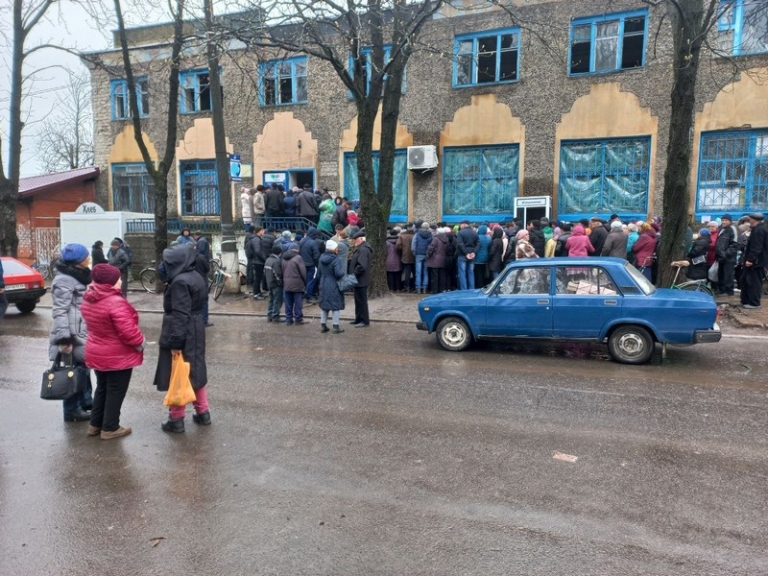 — Of course, in high school we had to talk about "Russian aggression" and "occupation of Crimea" in history lessons. But at home, the guys heard something else. Basically, we have a good relationship with Russia. Yes, there are those who are for Ukraine. But there are few of them. "Patriots" drew a big trident on my apartment building. Although we were against it, no one asked us.
But to say that eight years of propaganda left no trace is impossible, of course.
"One Ukrainian military man assured me, a history teacher, that Prince Alexander Nevsky was brought up in the Golden Horde and he was for the Mongols against Kievan Rus, can you imagine," Elena smiles bitterly. "I tell him, is it okay that in 1240, when the Mongol-Tatars were just taking Kyiv, Alexander had already smashed the Swedes on the Neva ?!"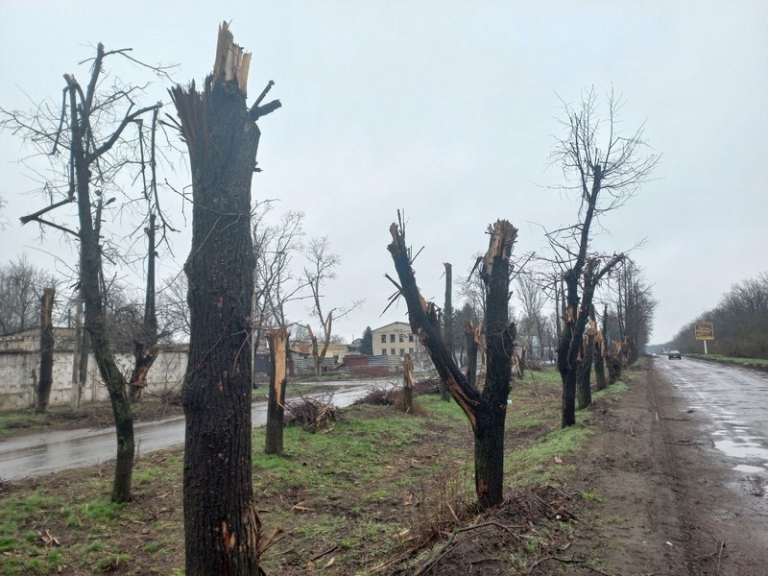 It is too early to say that peaceful life has already begun in Volnovakha. On April 14, a group of Ukrainian militants broke through here from Mariupol. They are caught in the surrounding forests, and therefore there are so many checkpoints on the roads, where they endlessly check our documents and inspect the car, despite the Moscow numbers. However, we are sympathetic to these measures, and treat the fighters with pre-stored packs of cigarettes. The supply of the military at checkpoints is organized, frankly, not very well …
Our next destination is Mariupol. It is bitter to look at the sides of the road, here and there broken civilian and military vehicles. DPR fighters are unscrewing some spare parts from one of our wrecked tanks. Suitable for your tank.
We are approaching another checkpoint.
– In Mariupol, – the military man asks in surprise, – no, no one has been allowed there for several days, the "Azov" * break through, battles break out all over the city. Roads are open only for exits.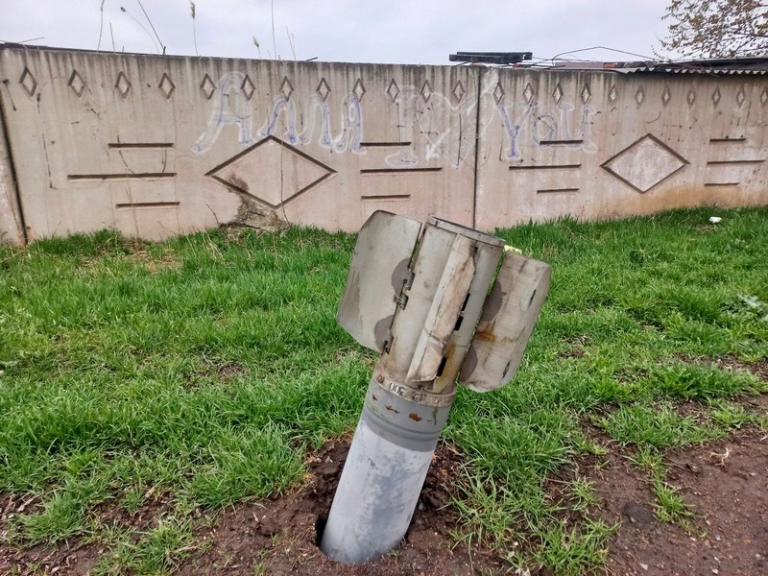 But what about the humanitarian? I know that they are waiting for her there. Yuri is a local man, he studies a paper map, which in places where there are battles and no Internet is the most reliable adviser.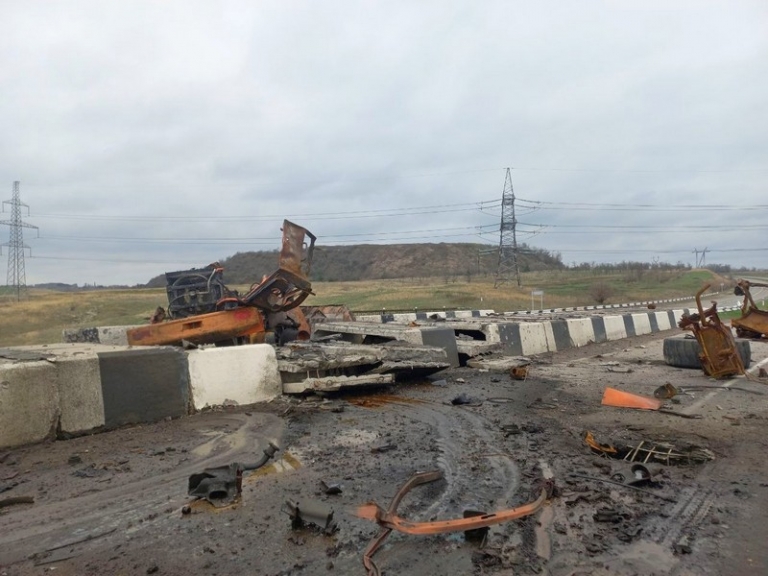 "Let's try to drive through Kalchik," he says after thinking. "If it doesn't work out there, you'll have to turn back."
We are driving along some deaf roads, broken by military vehicles. From time to time we come across military equipment. At one point you have to cross the Kalmius over a bridge without railings. Two iron tracks and a hole between them. You turn a little to the side – and you will fly from a five-meter bridge into the water. But – it worked out. We pass Talakovka, we drive into Sartana, here we can already hear the roar of cannonade from Mariupol, military columns stand along the cars, watching with interest my Niva-Chevrolet with Moscow numbers. However, no roadblocks. There are already online battles. So through Sartana we enter Mariupol, right to the Ilyich Plant. From our side, "heavy" rumbles very close by. The road is littered with fragments and broken high-voltage wires. Locals come across. It is evident that they are excited, not in themselves.
"Tell, tell the whole world how the Ukrainians shot at us," the woman screams. "She's got binoculars, they clearly saw from the ninth floor how the Azov soldiers were hitting people right at home … We are only offended by Putin because he didn't release us eight years ago …"
The men almost all grew beards – they had not shaved for more than a month, sitting in the basement. Around – the apocalypse, destroyed houses, torn up cars. But for some reason, the broken tram strikes me the most. Something from the times of the Great Patriotic War seems to be in this.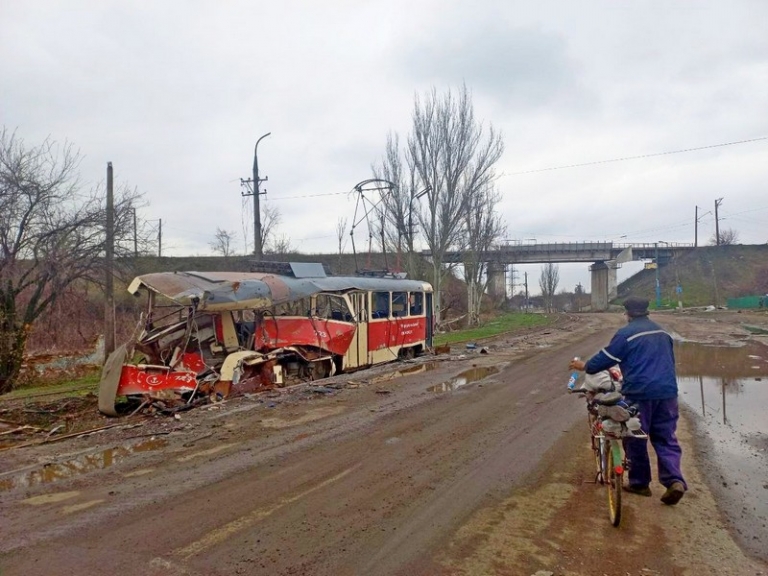 But how to be? The road is strewn with splinters and broken pieces of iron. It is impossible to get to that part of Mariupol where, I know, they are waiting for help. Togo and look you will break through the tires. And the nearest tire service is about forty kilometers away. And the driver of a car with Moscow numbers is a desirable target for snipers. After consulting, we decide with Yuri to distribute humanitarian aid here. Now the whole city is a zone of humanitarian catastrophe. It will soon be dark, there are almost no people on the streets. However, we see some peasant with a cart.
— Humanist? Of course, we need it, after all, we have been sitting here for a month, eating up our supplies, no one has come here yet.
– Then run, call the locals.
One minute guys…
A few minutes later we are already surrounded by hungry people with a heavy smell of bodies that have not been washed for a long time.
"Give me another can of stew, you see, I have a wound," the woman shows a really large swollen scar on her arm, "I need to feed my loved ones."
We put canned food, packs of pasta and cereals into outstretched hands. At some point, it is already difficult to hold back tears from how sincerely thanked the exhausted people for this modest help.
In five minutes everything was taken apart.
"Are you a Muscovite? A man in his fifties comes up to me. — I still served in the Soviet army. And I want to say that our capital is not Kyiv, and not even Donetsk. Our capital is Moscow. Give my regards to Moscow from me."
With a heavy heart we leave Mariupol. And we get into the convoy of DNR fighters. I remember 2014. The guys with machine guns peek out from behind the tarpaulin, many without helmets and bulletproof vests. In the convoy, in addition to military trucks, there are some old broken-down gazelles and cars. "Apparently, they are being taken out from under Mariupol," Yury suggests. – Here the battles end, they are transferred somewhere near Donetsk. Oh, guys, God forbid you survive in this meat grinder … "
---
* The images of the chevrons of the Azov battalion (regiment) were recognized in Russia as an extremist court decision dated 11/30/2015 and included in the Federal List of Extremist Materials (p. 3269).
ATTENTION READERS
We See The World From All Sides and Want YOU To Be Fully Informed
In fact, intentional disinformation is a disgraceful scourge in media today. So to assuage any possible errant incorrect information posted herein, we strongly encourage you to seek corroboration from other non-VT sources before forming an educated opinion.
About VT
-
Policies & Disclosures
-
Comment Policy
Due to the nature of uncensored content posted by VT's fully independent international writers, VT cannot guarantee absolute validity. All content is owned by the author exclusively. Expressed opinions are NOT necessarily the views of VT, other authors, affiliates, advertisers, sponsors, partners, or technicians. Some content may be satirical in nature. All images are the full responsibility of the article author and NOT VT.