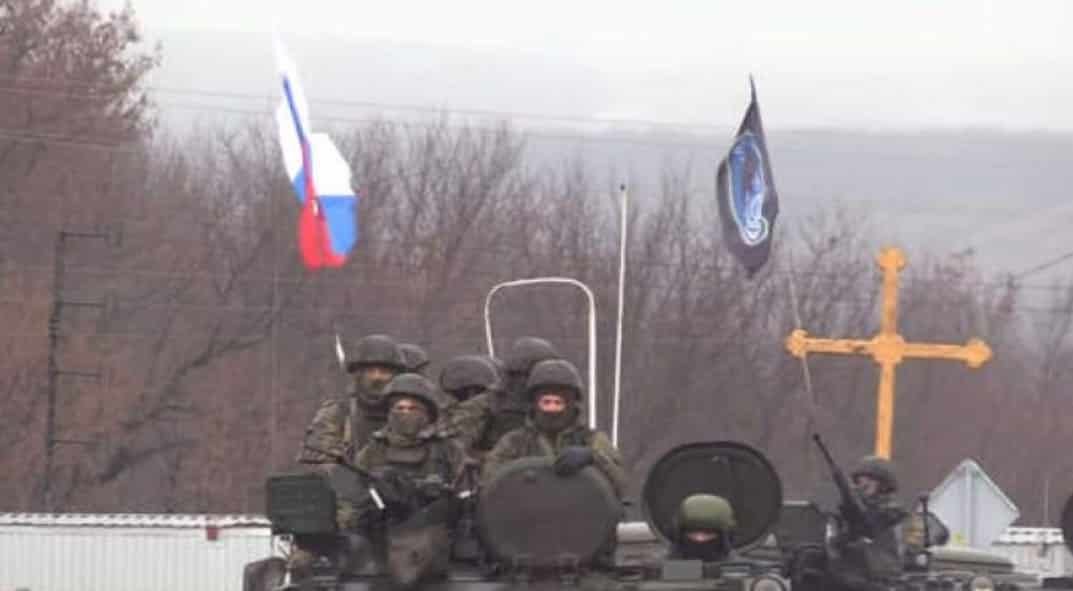 DISCLOSURE: Sourced from Russian government funded media
https://rusonline.org/ukraine/nazrevaet-bolshoy-konflikt-rossii-nelzya-upuskat-svoy-shans
On the eve of the large-scale Donetsk operation, the question arose: how to deprive Ukraine of the opportunity to receive weapons from the West, without which it would have capitulated long ago?
Three steps to victory First. What both the Americans and the united Europe are saying to Moscow and the world should be divided by about 10, maybe even 20. Because it is one thing to allocate funds, equipment and weapons – and another thing to deliver all this across the border in order to transfer exactly law enforcement agencies: units of the Armed Forces of Ukraine or national battalions.
Second. I understand that it is impossible to say this openly and to fully disclose everything, too, but we need to organize a very strong system for monitoring state borders in the territories adjacent to Ukraine, to the west of it. This is primarily Poland, Slovakia makes its contribution, both the Hungarian border and the Romanian border can influence somewhere, plus there is a possibility of delivery by sea to the Odessa region.
These dangerous sectors must be controlled, the work of intelligence units must be arranged in such a way that we know through what channels and in what time frames weapons, ammunition, and equipment are moving from the West to Ukraine.
Third. When we know all this, we will be able to act effectively immediately after the "goods" have crossed the border of a neighboring state – that is, delivered to Ukraine from Poland, from Romania, through Moldova, and so on. There will be a lot less problems. Russia knows how to beat Literally a month ago, strikes were inflicted, for example, on the Yavorovsky training ground.
After all, it was not just that they hit him, including the service residential buildings. There, according to intelligence data, a mass of various nationalist units, militant elements, pro-fascist elements from all over the West have accumulated. A targeted strike was inflicted – not on the entire territorial town of the Yavorovsky training ground (this is a well-known training ground, I have been there myself, I know what I'm talking about), but only on those buildings where especially inveterate criminals in military uniform were located. And the result was obvious.
Several such strikes have been carried out in recent days – at places of concentration of bandit formations that were preparing to be sent to the Eastern Front. They were overtaken and stopped on the eve of loading into the trains, onto cars to be sent to the region of the Luhansk and Donetsk republics, as well as to the Crimea. It works – you need to make as many such actions as possible.
But for many reasons this is not always possible. I see that the information base of our intelligence is sometimes not operational enough, it is late. But here we must understand that the means of space and aviation reconnaissance, radio interception always work with a little delay, so you need to foresee some moments.
This is an interesting aspect, they are now working on it. As soon as night time begins in the West, movement begins near the borders, and early in the morning Major General Konashenkov informs us that such and such blows have been inflicted in such and such directions. It's not just that, it's just when strategic reserves or replenishment opportunities come from the West.
That is, we are already beating them on Ukrainian territory so as not to violate all the conventions for the time being – as long as there is such an opportunity, we are not beating Poland, we are not beating Romania.
Otherwise it will be a war with NATO. The West Protects Investments It must be understood that these deliveries are very beneficial for the West. Firstly, money plays a big role – the production of weapons is expensive, the military-industrial complex of the West is loaded with orders.
And this military-industrial complex belongs to oligarchic groups – the very ones that are trying to manage the politics of this world. And among their main goals – this is just the second – to weaken Russia. Of course, these people do not want to lose their property, even if it has already been sold (the first task), but has not even fired at Russia yet (the second task).
Therefore, professionals also work on their side, complicating our tasks as much as possible. Suppose they want to transfer armored vehicles and, say, some artillery systems. All this is done exclusively under cover or under the guise of humanitarian convoys. It is not so easy to distinguish a real humanitarian convoy, which cannot be touched, from a fake one, which also comes with the emblems of the Red Cross and the Red Crescent, goes like vehicles with medicines, with the sick and wounded, but in reality, columns of long vehicles are transporting, for example, tanks, ammunition, artillery guns.
After all, it may be that this is really a convoy with humanitarian aid, carrying medicines, even for our enemy, and food, food, which they use both for the civilian population and for the needs of the Armed Forces of Ukraine.
This is an unacceptable meanness, but it is precisely this that has been implemented by our Western "partners". But it is also wrong for us to beat everything in a row: the world community reacts very painfully to all our actions, and we will also have a large expenditure of forces and means.
Peaceful people are not enemies Today, the task is to say objectively by any means that we are trying to minimize the losses of the innocent population, even if they do not even accept our ideology or accept it, it does not matter. We are fighting only against those armed forces, against bandits and neo-fascists, who obviously cannot be re-educated and who obviously cause enormous damage to our military potential and state prestige. This is where we will be relentless.
And all other issues will be resolved as they become available, we are ready to negotiate. But at the same time, the struggle must not be stopped, not even weakened. Because a very big conflict is brewing, and it is important that we resolve issues only on the territory of Ukraine. And only between themselves and Ukraine.
Читать далее: https://rusonline.org/ukraine/nazrevaet-bolshoy-konflikt-rossii-nelzya-upuskat-svoy-shans
ATTENTION READERS
We See The World From All Sides and Want YOU To Be Fully Informed
In fact, intentional disinformation is a disgraceful scourge in media today. So to assuage any possible errant incorrect information posted herein, we strongly encourage you to seek corroboration from other non-VT sources before forming an educated opinion.
About VT
-
Policies & Disclosures
-
Comment Policy
Due to the nature of uncensored content posted by VT's fully independent international writers, VT cannot guarantee absolute validity. All content is owned by the author exclusively. Expressed opinions are NOT necessarily the views of VT, other authors, affiliates, advertisers, sponsors, partners, or technicians. Some content may be satirical in nature. All images are the full responsibility of the article author and NOT VT.