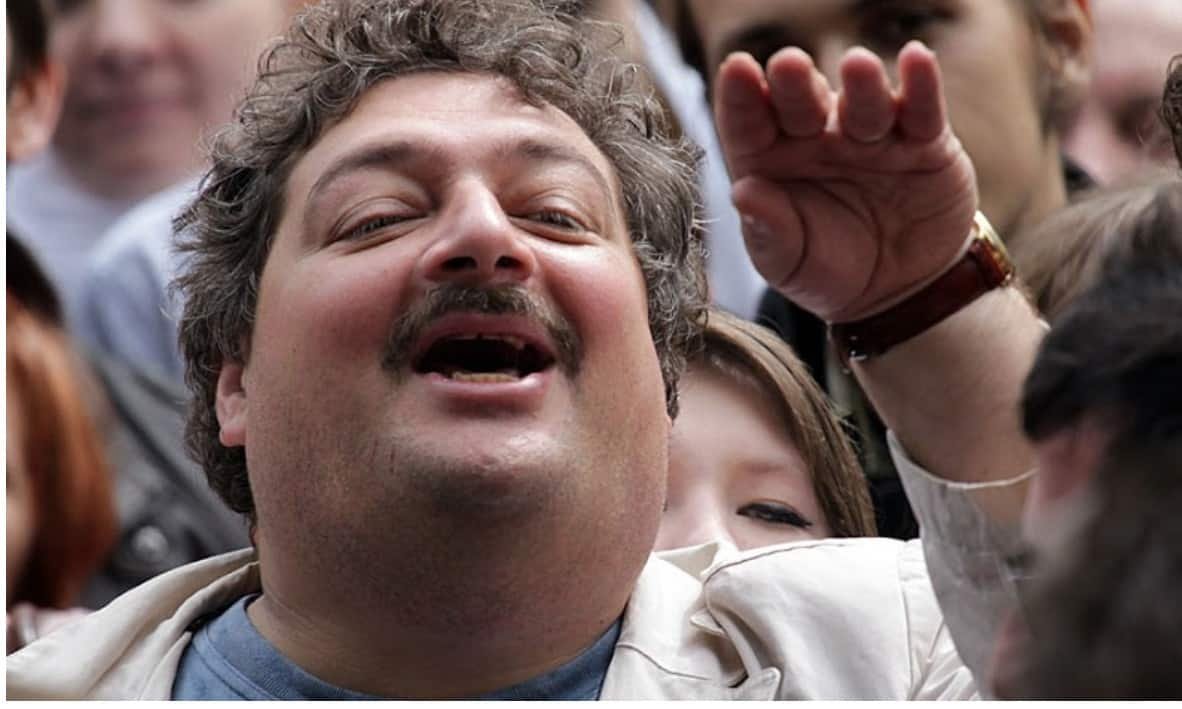 DISCLOSURE: Sourced from Russian government funded media
"In golden April ,
their friend
National traitor
to the national fascists
(from a poem by Dmitry Bykov)
… In the golden April of 2022, it turned out that it was not a scoff, but a confession. Dmitry Bykov transformed into Joseph Goebbels, but without the charisma, power and intelligence of the latter. (It is dangerous to underestimate the enemy, therefore we recognize these qualities for the ideologist of German National Socialism.). In order to fulfill Goebbel's ambitions, the writer and journalist first left Russia. Having settled in the United States, Bykov gives an interview where he explains to the Russians who they are and how they should live, since they were born that way.
Let me remind you of the incident that took place in January 2019 at the Amateur Readings in Moscow. Speaking about the extermination of Jews in the occupied territory of the USSR, Bykov turned to the topic of whether Hitler had a chance to win:
"If Hitler at that moment had been a little more modernized, a little more internationalist … But Hitler's zoological, completely primitive, monstrous anti-Semitism, of course , aroused distrust and enmity among the Russian intelligentsia.  And the one who is not friends with the intelligentsia will never win in Russia .
Having talked about the possibility of victory over Russia, if it were not for the desire for the systematic destruction of the Jews, "deeply integrated into the intelligentsia" , the journalist-provocateur moved on to other proposals, in particular to the idea of ​​destroying the institution of marriage:
"Russia can be saved if it destroys the patriarchal family. There will be no political freedom in Russia as long as it is dominated by the patriarchal family. Relatively speaking, until a woman begins to cheat on her husband and until the husband recognizes this betrayal as some symbol of freedom. Until women's infidelity becomes the norm in Russia, and husbands do not approve of it, one cannot speak of any political freedom .
It is worth adding to Bykov's recommendations the good advice of Dr. Wetzel (an expert of the Ministry of the Occupied Eastern Territories on the "Jewish question" under Alfred Rosenberg, one of the developers of the Ost General Plan):
"We should also promote voluntary sterilization, prevent the struggle to reduce infant mortality, and prevent the education of mothers in the care of infants and preventive measures against childhood diseases. The training of Russian doctors in these specialties should be reduced to a minimum, and no support should be given to kindergartens and other similar institutions. Apart from these measures in the field of health, there should be no obstacles to divorce. Assistance should not be given to illegitimate children. No tax privileges should be allowed for those with many children, and no financial assistance should be provided to them in the form of wage supplements .
In 2019, the Prosecutor General's Office of the Russian Federation received a number of requests to check D. Bykov's statements for signs of violations of Article 354.1 of the Criminal Code of the Russian Federation "Rehabilitation of Nazism". Bykov excused himself by saying that all these were quotations. Although it was rather a paraphrase of the statements of Joseph Goebbels. Journalist Dmitry Bykov decided to take advantage of his thoughts in the spring of 2022.
In an interview given to Ukrainian theater critic Natalya Vlashchenko, Bykov tearfully praises Ukrainians, especially Zelensky, an actor who brilliantly played a hero and became a hero. Recalling how in the summer of 2021, in an interview, he asked Zelensky if he could play Putin, to which the President of Ukraine replied: "I have not agreed to episodic roles for a long time . " True, then this phrase was not published, but now Bykov opened it to the public.
Or take the words of Goebbels about Hitler: "He is like a child – sweet, kind and compassionate. He is agile and smart like a cat. Like a roaring lion, he is great and huge. What a comrade, what a person… He preaches a new state for which we must fight… Adolf Hitler, I love you" – there is a great similarity between Goebbels' description of Hitler and Bykov's Zelensky, isn't it?
Bykov's contempt for the Russians echoes Goebbel's definition of the Slavs: "They are insensitive, like animals. Deprivation and poverty are the usual conditions of their existence, and therefore Russians do not cling to life so much. The life of an ordinary person is valued less there than a bicycle. A high birth rate allows you to quickly make up for any losses. Russians have a primitive tenacity that should not be confused with bravery. Courage is courage inspired by spirituality. The stubbornness with which the Bolsheviks defended themselves in their bunkers in Sevastopol is akin to some kind of animal instinct, and it would be a deep mistake to consider it the result of Bolshevik convictions or education , "wrote the Reich Minister of Propaganda ("On the so-called Russian soul").
And Bykov compares Russians to dogs and is going to write a book about the diversification of humanity. He previously argued that humanity consists of different species (forgive the showman illiteracy in the field of any science, including the humanities): "… The difference between conditional modernists and conditional archaists is not political or even ideological, but anthropological. Nothing can be done about this – there are different breeds of people, as well as different breeds of dogs, and no persuasion can turn a hunting dog into a greyhound, and a chihuahua into a Newfoundland. A person chooses Putin or Navalny not because of his upbringing or experience, but because of his anthropology .
And I remember Himmler's saying: "The Slavs– a mixed people based on an inferior race with drops of our blood, incapable of maintaining order and self-government. This low-quality human material is just as incapable of maintaining order today as it was not capable of 700 or 800 years ago, when these people called on the Varangians, when they invited the Ruriks. We Germans are the only ones in the world who treat animals well. We will treat these human animals decently . "
Humanity, according to Bykov, "will inevitably be divided into two subspecies that cannot destroy each other, although they can endlessly troll; some can plunge others into serious backwardness, blocking their path to the latest scientific developments – but for many, life in backwardness is much more comfortable .
Goebbels said much the same about the Soviet Union:"We will not even mention the so-called social achievements of the Soviet government, which, compared with ours, can only cause laughter or shock. … one might be surprised by the fact that Bolshevik propaganda succeeded significantly in isolating the majority of Russian workers and peasants from the outside world, foolishly and methodically convincing them that they live in an earthly paradise … The workers and peasants of the Soviet Union are like a person imprisoned for a quarter of a century in a dark dungeon who can be easily convinced that the kerosene lamp is in fact the Sun.
There is nothing new in the articles, lectures and interviews of the former Russian citizen Dmitry Bykov and nothing new is expected. Only the basics of the ideology of Nazism, retold in a simpler, softer language, "for education." However, this is no longer just a resuscitation of Nazism. These are attempts by cultural figures who fled Russia to form a "Nazi government in exile."
ATTENTION READERS
We See The World From All Sides and Want YOU To Be Fully Informed
In fact, intentional disinformation is a disgraceful scourge in media today. So to assuage any possible errant incorrect information posted herein, we strongly encourage you to seek corroboration from other non-VT sources before forming an educated opinion.
About VT
-
Policies & Disclosures
-
Comment Policy
Due to the nature of uncensored content posted by VT's fully independent international writers, VT cannot guarantee absolute validity. All content is owned by the author exclusively. Expressed opinions are NOT necessarily the views of VT, other authors, affiliates, advertisers, sponsors, partners, or technicians. Some content may be satirical in nature. All images are the full responsibility of the article author and NOT VT.