Watch the bowdlerized YouTube version of FFWN above, or the full uncensored show HERE
YouTube doesn't want you to hear what E. Michael Jones, editor of Culture Wars, has to say about vaccine mandates and the subsequent backlash.  So that part of our show, censored by YouTube, is only available on Rumble.
Here are some of my comments that were too hot for YouTube:
"MASS SHOOTINGS ARE BAD ENOUGH. BUT MANDATORY MASS SHOOTINGS, IN WHICH MILLIONS OF PEOPLE ARE REQUIRED TO BE SHOT AS A CONDITION OF THEIR EMPLOYMENT OR IN ORDER TO BE ALLOWED TO USE PUBLIC AMENITIES, ARE DOWNRIGHT….UNAMERICAN? OR MAYBE ALL TOO AMERICAN?"
So how did "15 days to slow the spread" turn into "two shots to feed your family"?
In "How Americans can resist coronavirus shot mandates – a comprehensive guide" we learn that there are basically two "get out of vaccine free cards": religious and medical exemptions. Since most folks don't have a valid medical excuse, that leaves religious exemptions…which COULD HAVE THE UNINTENDED CONSEQUENCE OF SPARKING A RETURN TO RELIGION! WHEN PEOPLE FACE THE POSSIBILITY OF LOSING THEIR LIVELIHOODS, THEY'RE GONNA HAVE TO ASK GOD FOR GUIDANCE. AND GOD IS GONNA TELL THEM: "TAKE THE RELIGIOUS EXEMPTION!" SERIOUSLY, IN A CRISIS, PEOPLE START FACING THE ULTIMATE QUESTIONS. THERE ARE NO ATHEISTS IN FOXHOLES.
My family has never been vaccinated for anything since 1995, and we're not about to start now. We are Muslims, and have taken numerous religious exemptions (when the kids went to public school, when we traveled to Morocco on a Fulbright, etc.) I was never asked to provide a religious rationale, but could easily do so. Those looking for an official fatwa might want to check out "Shariah on Vaccines."
AND NOW Fauci supports a vaccine mandate for travel:  MAYBE THEY'LL CHANGE AIR TRAVEL FROM TWO CLASSES TO THREE: 1ST CLASS FOR THE CHOSEN RICH PEOPLE, 2ND CLASS FOR ORDINARY VAXXED SCHMUCKS, AND THEN THE UNVAXXED WILL GET PACKED UP IN CARDBOARD BOXES AND THROWN INTO THE CARGO HOLD.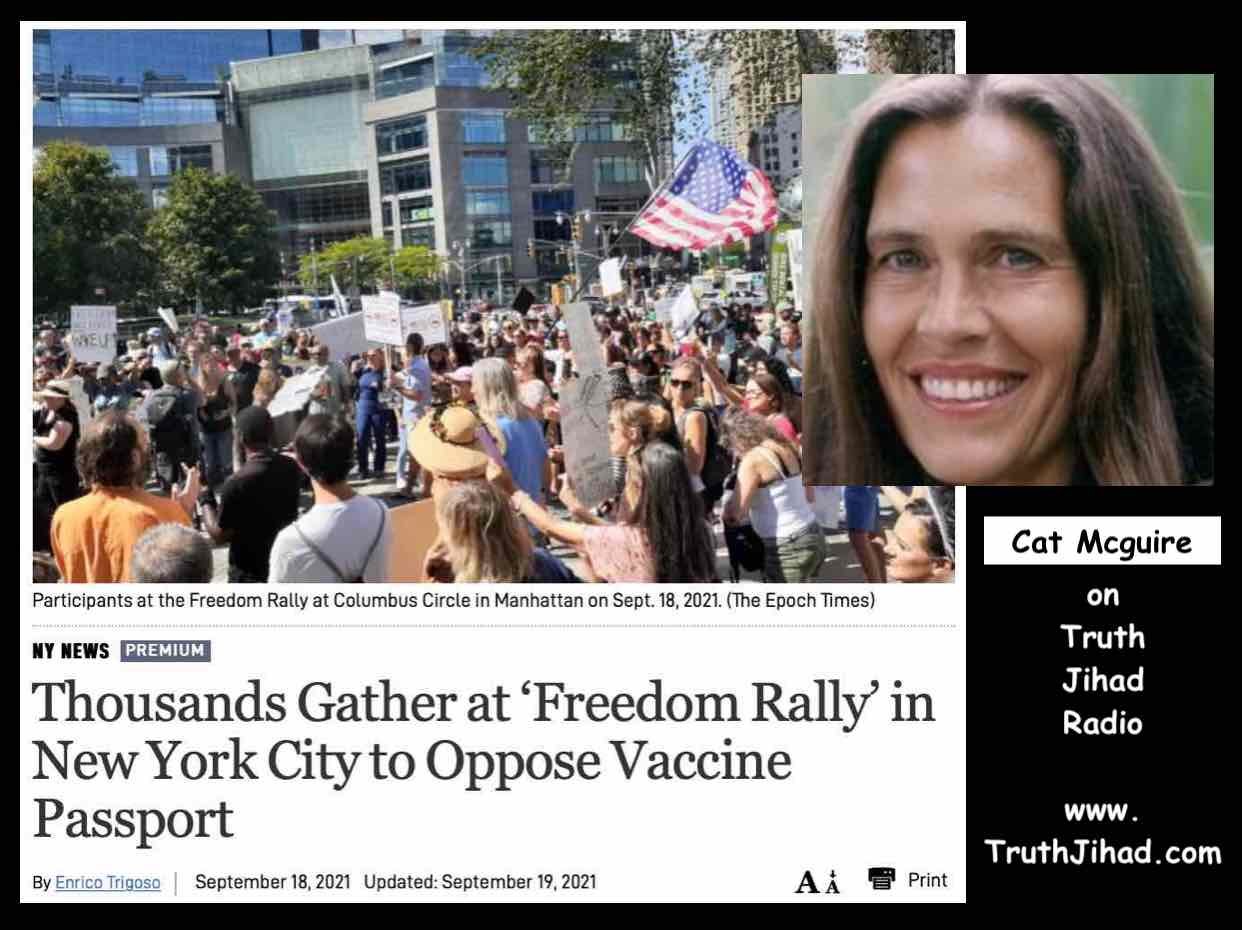 Meanwhile, while "E-Mike" and I were doing False Flag Weekly News, our FFWN colleague Cat McGuire was organizing  the New York franchise of Saturday's Worldwide Rally for Freedom. In a new interview she discusses the challenges and opportunities of organizing pro-freedom demonstrations in an increasingly unfree world. The interview was recorded on the eve of the demonstration, which attracted thousands in New York City and untold numbers in more than 180 cities worldwide, including Los Angeles, Santa Barbara, Salt Lake City, Boulder, Calgary, London, Edmonton, Manchester, and of course Melbourne where clashes with police elicited worldwide MSM hysteria, as exemplified by the Washington Post article  "Far-right activists blamed for fueling anti-vaccine mobs in Melbourne Australia."
The worldwide demonstrators' message is a simple four-word slogan: "No mandates! No passports!" (They're not crazy about lockdowns either.)
Cat writes:
"Wow! Wow! We had such a phenomenal rally in Times Square, Saturday, September 18, 2021. Agreed by all, it was New York's best health freedom rally to date.  Forget what so much of the press said, there were thousands present, not hundreds.
"The charged spirit of the crowd carried the day more than anything else. Having our rally in big, boisterous Times Square, where if you make it there, you can make it anywhere, added to the intensity of everyone's mission to speak out against the illegality of masks, lockdowns, mandates, and passports.
"I co-produced the event and was finally able to get us the permit for Times Square after team members had tried for 2 months. But then we lost the location, got it back, and lost it again. Detective Mike Dugan fought for us in negotiations and finally at 5:00pm on Tuesday, 4 days before the event was to take place (!), we were officially confirmed with a permit for Times Square. It was very stressful to say the least.
"But here it is in living color, a fabulous rally!"
Videos
David Icke sends special message to New Yorkers
Tessa Fights Robots, Helen of DesTroy, Jo Speaks Truth
Donna Schmidt Aliperti
Mary Jo Generoso, Jo Speaks Truth –
Ita da truth
March – Columbus Circle to Times Square
After rally – getting down with Ito da Truth and Flaco
Full end-to-end video coverage
Press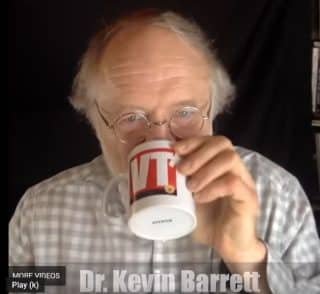 Dr. Kevin Barrett, a Ph.D. Arabist-Islamologist is one of America's best-known critics of the War on Terror.
He is the host of TRUTH JIHAD RADIO; a hard-driving weekly radio show funded by listener subscriptions at Substack and the weekly news roundup FALSE FLAG WEEKLY NEWS (FFWN).
He also has appeared many times on Fox, CNN, PBS, and other broadcast outlets, and has inspired feature stories and op-eds in the New York Times, the Christian Science Monitor, the Chicago Tribune, and other leading publications.
Dr. Barrett has taught at colleges and universities in San Francisco, Paris, and Wisconsin; where he ran for Congress in 2008. He currently works as a nonprofit organizer, author, and talk radio host.
ATTENTION READERS
We See The World From All Sides and Want YOU To Be Fully Informed
In fact, intentional disinformation is a disgraceful scourge in media today. So to assuage any possible errant incorrect information posted herein, we strongly encourage you to seek corroboration from other non-VT sources before forming an educated opinion.
About VT
-
Policies & Disclosures
-
Comment Policy
Due to the nature of uncensored content posted by VT's fully independent international writers, VT cannot guarantee absolute validity. All content is owned by the author exclusively. Expressed opinions are NOT necessarily the views of VT, other authors, affiliates, advertisers, sponsors, partners, or technicians. Some content may be satirical in nature. All images are the full responsibility of the article author and NOT VT.