Watch the full uncensored FFWN above, click HERE for links stories we covered
The top story of the last week of 2021: Putin and Biden spent almost an hour on the special "save the world from nuclear destruction hotline" doing a remake of President Merkin Muffley's emergency call to Premier Kissoff in Kubrick's Dr. Strangelove. Putin's message: If Biden doesn't call back the first strike weapons Gen. Jack D. Ripper is sending to Russia's borders, get ready for…the Doomsday Machine.
In other news, Prof. Jason Kilborn of the University of Illinois-Chicago John Marshall Law School has been suspended, tormented, and sent to re-education camp for the crime of mentioning "the n-word" and "the b-word" in an exam question. He didn't use the actual words, just the euphemisms. But now even the euphemisms aren't euphemistic enough for the ultra-woke snowflakes. Prof. Kilborn didn't get the memo that from now on, you have to say "the 14th letter of the alphabet word" and "the 2nd letter of the alphabet word."
We interrupt this article for a very special commercial message:
TIRED OF THOSE BOOSTER NEEDLES GOING IN-OUT-IN-OUT OF YOUR ARM? NOW THERE'S A SOLUTION! MATRIX MEDICAL TECHNOLOGIES WILL STUFF YOUR BODY INTO A COFFIN-LIKE POD AND PERMANENTLY INSERT HUNDREDS OF NEEDLES THAT WILL DRAIN YOUR ENERGY WHILE SIMULTANEOUSLY OFFERING A DRIP-FEED OF THE VERY LATEST BOOSTER! AND NOW, FOR A VERY LIMITED TIME, MATRIX MEDICAL TECHNOLOGIES WILL OFFER A FREE LIFETIME SUPPLY OF BLUE PILLS FOR EVERYONE WHO AGREES TO LET US STUFF THEM IN A POD!  DON'T BE THE LAST ONE ON YOUR BLOCK TO GET STUFFED IN A POD AND GIVEN A PERMANENT COVID BOOSTER SHOT! (OFFER VOID WHERE PROHIBITED; SIDE EFFECTS MAY INCLUDE NAUSEA, VOMITING, IMPOTENCE, HAIR LOSS, MYOCARDITIS, LOSS OF CIVIL LIBERTIES, AND/OR DROPPING DEAD IN THE MIDDLE OF A SOCCER GAME.)
In other vaccine news, the US Army says it is developing a vaccine that will work against COVID-19, SARS, MERS, the common cold, herpes, leprosy, and pimples and unsightly blemishes. This new miracle vaccine will ensure that you will never ever again catch a disease or suffer from embarrassing acne, dandruff, body odor, or incontinence. The new vaccine works by killing you dead.
THE ARMY WILL SMEAR THE VACCINE ON THE TIPS OF THEIR BAYONETS, KICK IN THE DOORS OF THE UNVAXXED, AND MAKE SURE THAT EVERYBODY "GETS THE JAB."
In yet more vaxxwars news:
Carlos Tejada, a New York Times Deputy Asia Editor, has died at the age of 49. He suffered a heart attack less than a day after posting to social media that he had received a Moderna booster vaccination.
COINCIDENCE THEORISTS ARE HAVING A FIELD DAY.
Meanwhile Alex Jones finally asked the million-dollar question: Is Donald Trump ignorant or evil? The correct answer, of course, is "all of the above."
And speaking of evil rich people…how about Bill Gates vowing to make sure that COVID-19 is the last pandemic?
Bill Gates says the world's biggest problem is that people don't trust the institutions he owns:
"If your people don't trust you, they're not going to support major new initiatives," Gates wrote. "And when a major crisis emerges, they're less likely to follow guidance necessary to weather the storm."
Hey, if you can't trust Bill Gates' depopulation initiative, who or what can you trust?
Anyway, now that "the mild variant" has made COVID less than mortally terrifying, a new threat has emerged: Psycho-killer squirrels.
FORTUNATELY, BILL GATES, THE US ARMY, MODERNA, PFIZER, AND THE REPTILIAN-GRAY CONFEDERATION HAVE JOINTLY ANNOUNCED THE DEVELOPMENT OF A NEW MRNA VACCINE THAT PROTECTS AGAINST SQUIRREL ATTACKS.  IT WORKS WELL FOR A COUPLE OF MONTHS, AND THEN WHEN THE PSYCHO SQUIRRELS COME BACK, YOU JUST HAVE TO GO IN AND GET THE BOOSTER.  
Thank you for watching False Flag Weekly News, and have a great 2022!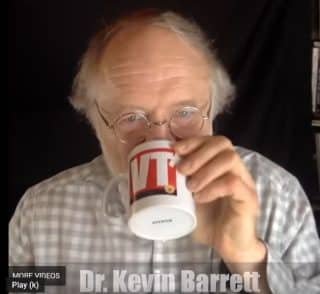 Dr. Kevin Barrett, a Ph.D. Arabist-Islamologist is one of America's best-known critics of the War on Terror.
He is the host of TRUTH JIHAD RADIO; a hard-driving weekly radio show funded by listener subscriptions at Substack and the weekly news roundup FALSE FLAG WEEKLY NEWS (FFWN).
He also has appeared many times on Fox, CNN, PBS, and other broadcast outlets, and has inspired feature stories and op-eds in the New York Times, the Christian Science Monitor, the Chicago Tribune, and other leading publications.
Dr. Barrett has taught at colleges and universities in San Francisco, Paris, and Wisconsin; where he ran for Congress in 2008. He currently works as a nonprofit organizer, author, and talk radio host.
ATTENTION READERS
We See The World From All Sides and Want YOU To Be Fully Informed
In fact, intentional disinformation is a disgraceful scourge in media today. So to assuage any possible errant incorrect information posted herein, we strongly encourage you to seek corroboration from other non-VT sources before forming an educated opinion.
About VT
-
Policies & Disclosures
-
Comment Policy
Due to the nature of uncensored content posted by VT's fully independent international writers, VT cannot guarantee absolute validity. All content is owned by the author exclusively. Expressed opinions are NOT necessarily the views of VT, other authors, affiliates, advertisers, sponsors, partners, or technicians. Some content may be satirical in nature. All images are the full responsibility of the article author and NOT VT.