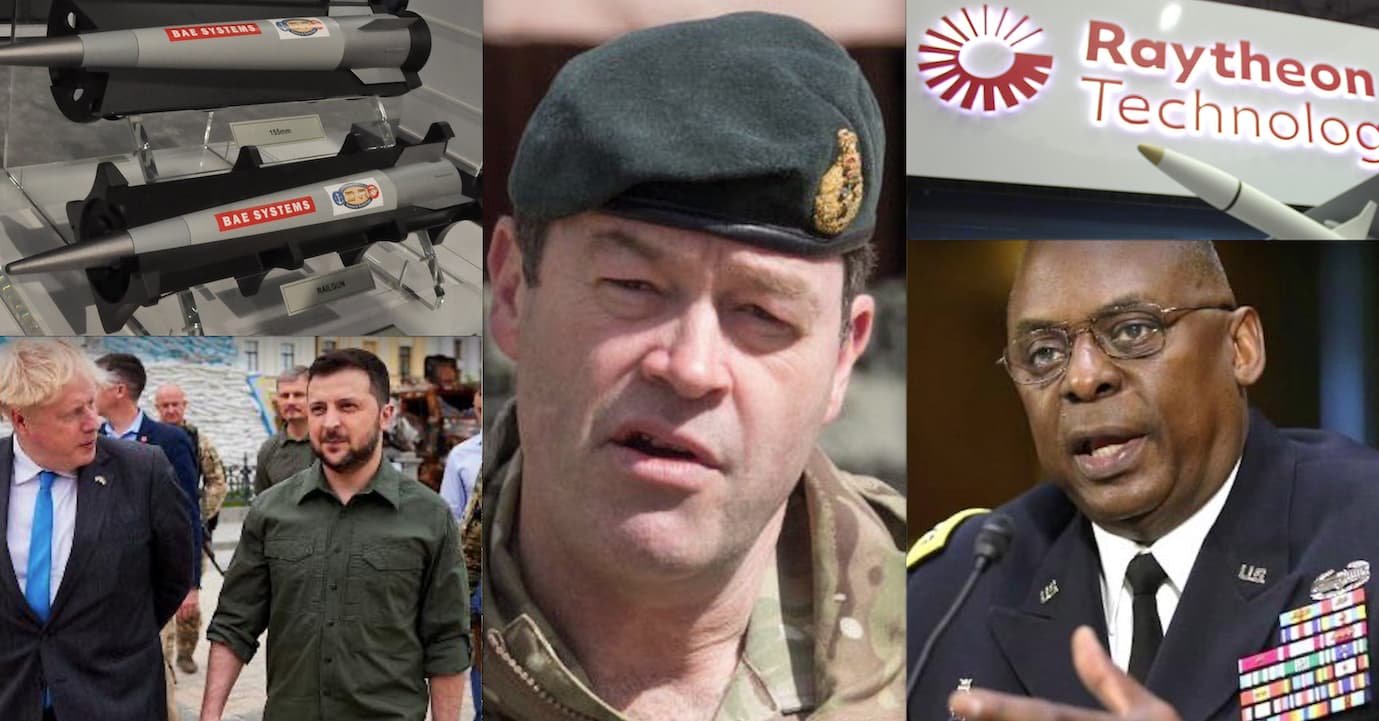 1 – MILITARY INTELLIGENCE & WEAPONS LOBBY
2 – THE THREATS OF THE NEW WORLD ORDER TO CHINA
3 – THE RETURN OF THE WAR IN EUROPE
4 – STRATEGIES AND AFFAIRS OF THE BRITISH BAE SYSTEMS
5 – THE SCANDAL BETWEEN JOHNSON AND BAE SYSTEMS
6 – AUSTIN'S RAYTHEON FOR JAVELIN ROCKETS
7 – THE AMERICAN WEAPONS BUSINESS
8 – NUCLEAR AND HUNGER NIGHTMARES WANTED BY NATO
9 – THE VERY DANGEROUS IRON ARM IN THE BALTIC SEA
In the cover image Boris Johnson with Volodymyr Zelensky, the British general Sanders, the former American general Austin and the rockets of Bae Systems and Raytheon
by Fabio Giuseppe Carlo Carisio
It is necessary to prepare to" fight against Russia "for what could be the Third World War. This was stated by the British general, Patrick Sanders, in his first speech since taking up the post of Chief of Staff of the United Kingdom army this month. "We are the generation that must prepare the army to fight once again in Europe" since the Russian invasion of Ukraine undermines global stability».
This sentence takes on considerable importance both for the author of the statements and for the information portal that reported it.
A general of the United Kingdom, in fact, went so far as to announce what many times declaimed by the President of Ukraine Volodymyr Zelensky about "a new world war" to scare Russian President Vladimir Putin.
LA GUERRA MONDIALE DI ZELENSKY E L'APOCALISSE PROFETIZZATA DAL PATRIARCA DI MOSCA
The senior British officer actually spoke only of "war in Europe" while Nova News added the words "world war". This could appear as a journalistic stretch were it not that this online newspaper is sponsored by the Italian arms industry Leonardo and was born in full Covid-19 emergency due to an agreement between the Nova Agency, which has always been close to military intelligence issues, and the Italian Government, in the wake of collaboration already in place with the Ministry of Foreign Affairs.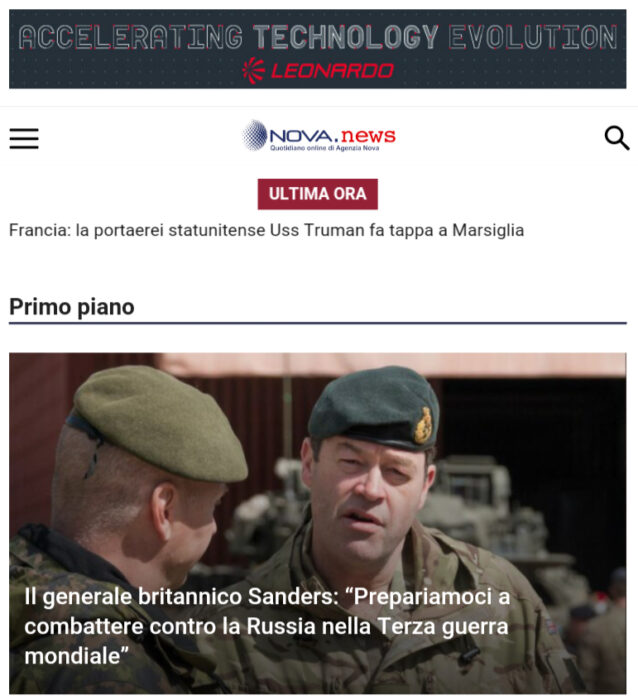 The official note sent by General Sanders to the troops, however, was leaked after a similar warning issued by the British Prime Minister Boris Johnson, during his sudden visit to Kiev, and after the threatening words launched by President Zelensky to China about Taiwan, that gave further visibility to those pronounced by US Secretary of Defense Lloyd Austin on a global concern.
Johnson said that through firm long-term support for Ukraine, "we and our allies will protect our security as much as Ukraine's and safeguard the world from the deadly dreams of Putin and those who might try to copy them."
"The war in Ukraine could last for years". On the other hand, NATO Secretary-General Jens Stoltenberg said in an interview published on Sunday 19 June by the German newspaper Bild.
1 – MILITARY INTELLIGENCE & WEAPONS LOBBY
What makes these echoes of an imminent World War III credible and alarming is not just the scorching geopolitical context but the international intrigue that revolves around the Weapons Lobby and military intelligence just like the bloody coup hatched by the US, UK. and other NATO countries in Ukraine in 2014 to dismiss the pro-Russian president Viktor Yanukovych and the subsequent CEPA plan for the militarization of Eastern Europe's borders with Russia elaborated by a Washington think-tank together with the military leaders of the Alliance Atlantic and EU.
NATO's COUP IN UKRAINE: THE GENESIS – 1. Snipers' Massacre in Kiev Maidan Square 2014 like that on CIA's Shade in Caracas 2002
As highlighted in a previous Gospa News investigation, the Kiev Color Revolution first launched by George Soros in 2004 referred not only to the NGO Canvas, born of Belgrade activists funded by the American CIA counter-intelligence but also from courses in training on geopolitics and intelligence strategies provided by a British counter-intelligence MI6 officer.
NATO's COUP IN UKRAINE: THE GENESIS – 2. Obama, Soros, MI6 & Kyiv Security Forum
Democratic candidate for the American presidential elections Tulsi Gabbard was among the few honest politicians in the world to admit that the war in Ukraine was wanted by the defense industry corporations that immediately took advantage of it to the point of inducing at least 20 members of the US Congress to invest in these multinationals after the approval of US aid plans to send arms to Ukraine.
In a quick summary, we highlight that Prime Minister Boris Johnson ended up in the eye of the storm for having been chosen as a consultant from BAE Systems, the most important British armaments multinational which is a supplier to the Pentagon but also a partner of the Italian Leonardo, for which General Sanders was a speaker at a conference on security.
President Joseph Biden's choice of former General Lloyd Austin as US Secretary of Defense was criticized for Austin's previous post as a consultant to Raytheon who had to make a $ 309 million deal following the start of the war in Ukraine. dollars to cover the needs of the Javelin rockets, already idolized as "Saint Javelin" by the fighters of Kiev.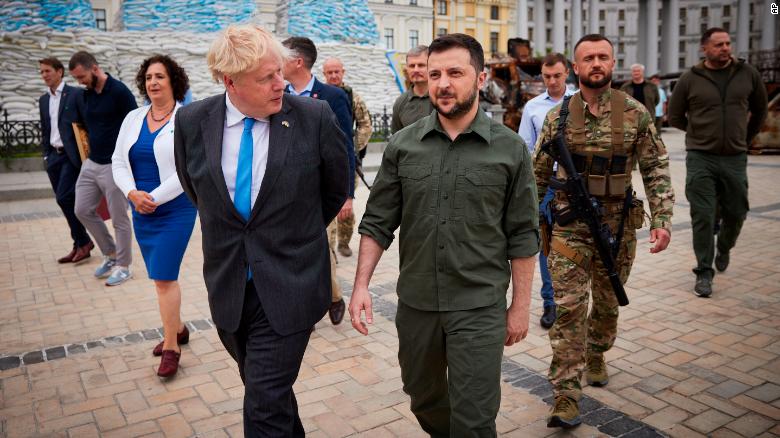 Stoltenberg will leave his post as NATO secretary in September to become president of Norges Bank, one of the European banking groups that has speculated on the arms market even on the bombs supplied to Saudi Arabia for the terrible conflict in Yemen, despite the UN embargo on the import of war material, thanks to an international agreement between Raytheon, the German Rheinmetall and its Italian branch RWN.
In Gates' Hands even Italian Military Artificial Intelligence. Leonardo-Microsoft Deal and Dems intrigues through 007 and Pandemic
But Stoltenberg was also director of the Gavi Alliance funded by Bill Gates which through Microsoft Corporation obtained contracts on artificial intelligence in the military field from both Leonardo and the Pentagon, together with Amazon Web Services of Jeff Bezos, owner of the Washington Post which relaunched even in a vulgar way Zelensky's threats to China. Let's see every aspect in detail starting from here.
2 – THE THREATS OF THE NEW WORLD ORDER TO CHINA
«If Ukrainian President Volodymyr Zelensky isn't getting paid to foment war between the West and China, he should be. The ubiquitous media darling declared on Saturday that the "international community" must help Taiwan resist Chinese "aggression" now before Beijing attacks the poor little heavily-armed island» US political journalist and columnist Helen Buyniski wrote in Russia Today.
Pentagon's TOP Secrets in the Bezos-Gates' Claws. DoD picks Amazon, Microsoft, Google and Oracle to replace JEDI Cloud
His apparent call for preemptive action against China was picked up by no less than the Washington Post, with the acknowledgment that the comments risked "upsetting Ukraine's delicate balancing act with China." Still, Zelensky, perceived as a hero in the West, insisted that "aggressors must be confronted wherever they emerge." Never mind that the US, the chief backer of the Ukrainian military effort, has long been the biggest and boldest aggressor on the planet – Zelensky's supporters know not to take such rhetoric personally».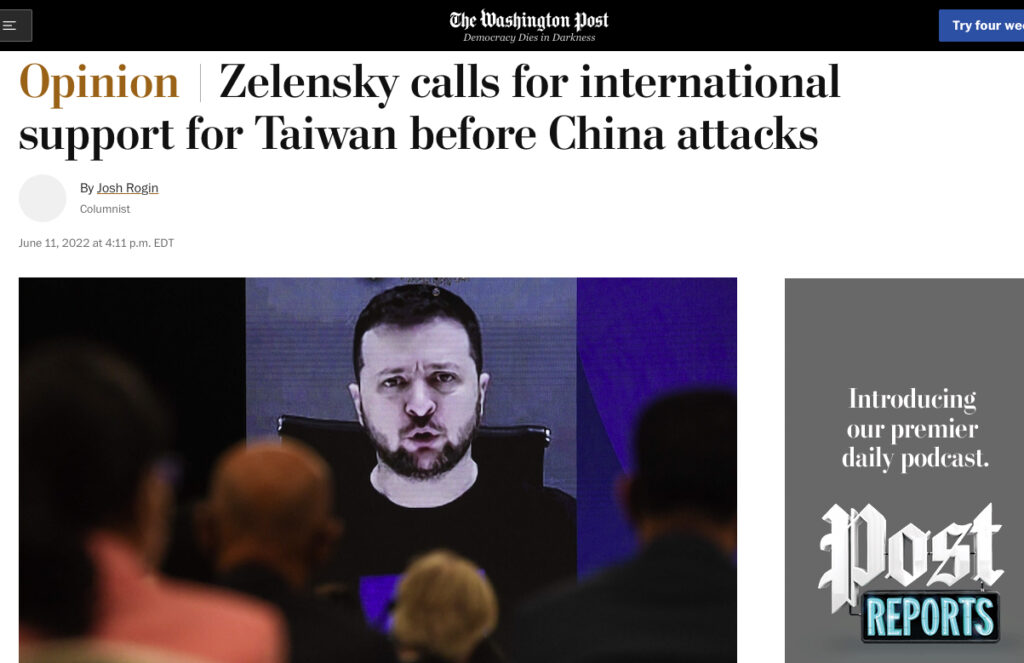 «Not that this ignorance matters to the ranks of World Economic Forum drones who dutifully nod before the big screens as their doughy darling talks tough to Putin and demands they cough up ever-larger sums of cash to feed the proxy war Kyiv is so selflessly leading for them».
It would be bad form to point out that the man hasn't got a clue where geopolitical issues are concerned, and hypocritical to boot, given how many of their number – US president Joe Biden chief among them – are best understood as puppets who'd be rendered inert without the animating force of the scores of think tank lobbyists, bankers, and military-industrial lobbyists who make policy behind the scenes» declares the reporter from RT.
Zelensky's acting chops have served him well these last few months – adds Buyniski further – Clad in man-of-the-people olive drab, he has convinced EU states, for instance, to open their hearts and wallets for the war effort to the point of adopting ruinous, self-sabotaging sanctions they can ill afford».
Zionist Lobby – 1. Singer (Elliott) & Fink (BlackRock) within Gates-Soros in Covid Big Pharma's Business(GSK & Gilead)
But there's a difference between duping other European states into starving themselves of wheat and fuel for the coming winter and threatening China's territorial ambitions. Beijing has repeatedly made it clear that it will not tolerate interference in the Taiwan question by the US, much less by the likes of Zelensky».
Beijing's sensitivity over the Taiwan issue was on full display at the conference, where U.S. Defense Secretary Lloyd Austin met with China's minister of national defense, Gen. Wei Fenghe on Friday, instead, the Washington Post reports in the article where it collects Zelensky's appeal.
EU is Losing Energy War against Russia! Oil Embargo Failed. Instead Gas Price Triple In Winter… Analysts Forecast
According to a U.S. official, Austin confronted Wei about China's increasing intimidation of Taiwan, which threatens to upset a long-standing but fragile status quo, and rejected China's contention that the Taiwan Strait is wholly owned by China.
"We've witnessed a steady increase in provocative and destabilizing military activity near Taiwan. And that includes PLA [People's Liberation Army] aircraft flying near Taiwan in record numbers in recent months — and on a nearly daily basis," Austin said in a speech Saturday. "Maintaining peace and stability across the Taiwan Strait isn't just a U.S. interest. It's a matter of international concern."
3 – THE RETURN OF THE WAR IN EUROPE
Before Russia's invasion, Prime Minister Boris Johnson told MPs last November that he believed the era of tanks rolling through Europe was behind us. According to BBC, Mr Johnson said at the time: "We have to recognize that the old concepts of fighting big tank battles on European land mass are over and there are other better things we should be investing in."
Gen Sir Patrick noted in the message that he was the first Chief of the General Staff "since 1941 to take command of the Army in the shadow of a land war in Europe involving a major continental power".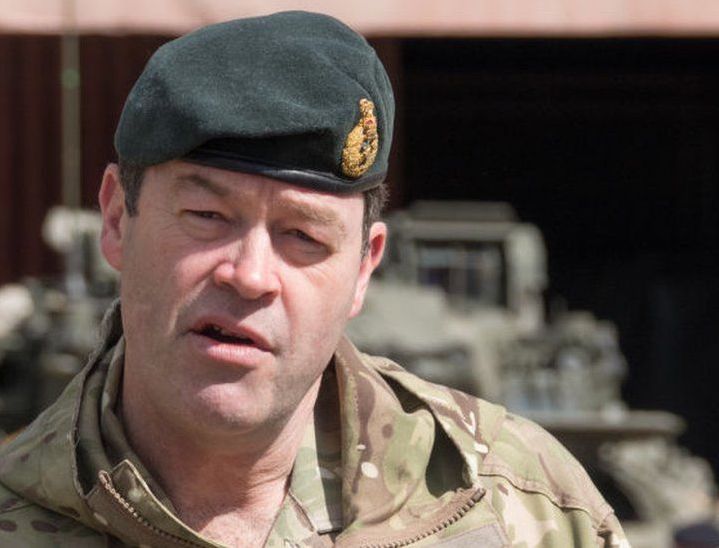 He added: "Russia's invasion of Ukraine underlines our core purpose – to protect the UK and to be ready to fight and win wars on land – and reinforces the requirement to deter Russian aggression with the threat of force."
He noted, "the world has changed since the 24th of February and there is now a burning imperative to forge an army capable of fighting alongside our allies and defeating Russia in battle".
Gen Sir Patrick also set out his goal to "accelerate the mobilization and modernization of the Army to reinforce Nato and deny Russia the chance to occupy any more of Europe… we are the generation that must prepare the Army to fight in Europe once again".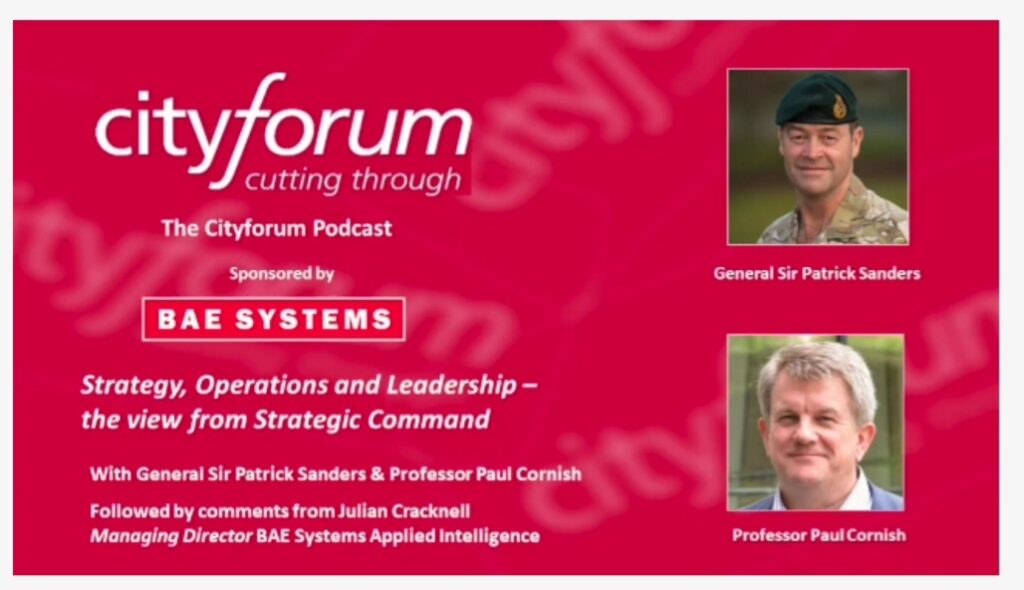 Thanks to these orientations in the strategic command Patrick Sanders, 56, already at the helm of several NATO military operations in Northern Ireland, Kosovo, Iraq, and Afghanistan, was chosen by Prime Minister Boris Johnson as Chief of Staff. Probably also due to the common proximity to the national military industry BAE Systems.
In fact, on February 2, 2021, was published the final podcast of the series "Strategy, Operations, and Leadership: designing and equipping UK Armed Forces for an uncertain international security environment".
Within it, there was a discussion between General Sir Patrick Sanders, Commander UK Strategic Command, and Professor Paul Cornish, Chief Strategist Cityforum, with a comment from Mr Julian Cracknell, Managing Director of BAE Systems Applied Intelligence.
4 – STRATEGIES AND AFFAIRS OF THE BRITISH BAE SYSTEMS
A month later, on March 22, the British multinational, controlled by Barclays in turn participated by the sovereign fund of Qatar in an alliance between English Freemasonry and the Muslim Brotherhood, releases a joyful statement …
«The UK Ministry of Defence has today published its Defence Command Paper (DCP) which outlines the Government's commitment to modernize the Armed Forces to meet the objectives of the recent Integrated Defence, Security, and Foreign Policy Review».
WEAPONS LOBBY – 4. UK and Italy in the hands of Qatar's Muslim Brotherhood: Rothschild partner and Jihadists' funder
The DCP reaffirms commitments to a number of capabilities in which BAE Systems plays a leading role including:
Four new Dreadnought Class submarines to deliver the UK's nuclear deterrent
Eight Type 26 Anti-Submarine Warfare frigates
The Tempest Future Combat Air System
Continued development of Typhoon capability
We will work with the Ministry of Defence to understand more about the future maritime capabilities detailed in the DCP including the next generation of nuclear submarines, Type 83, Future Solid Support (FSS) ship, Multi-Role Ocean Surveillance Ship (MROSS) as well as capabilities in the cyber and space domains.
We welcome the clarity that the Ministry of Defence's vision of a modernized, integrated force provides to industry and the increased funding that will give our sector the confidence to invest in the cutting-edge technologies that will support thousands of highly skilled jobs across the country. Working with our customers, partners, and suppliers through programs like Tempest we're demonstrating a radically different approach to achieve pace, affordability, and operational capability to meet evolving requirements more quickly and at a lower cost Charles Woodburn, BAE Chief Executive stated.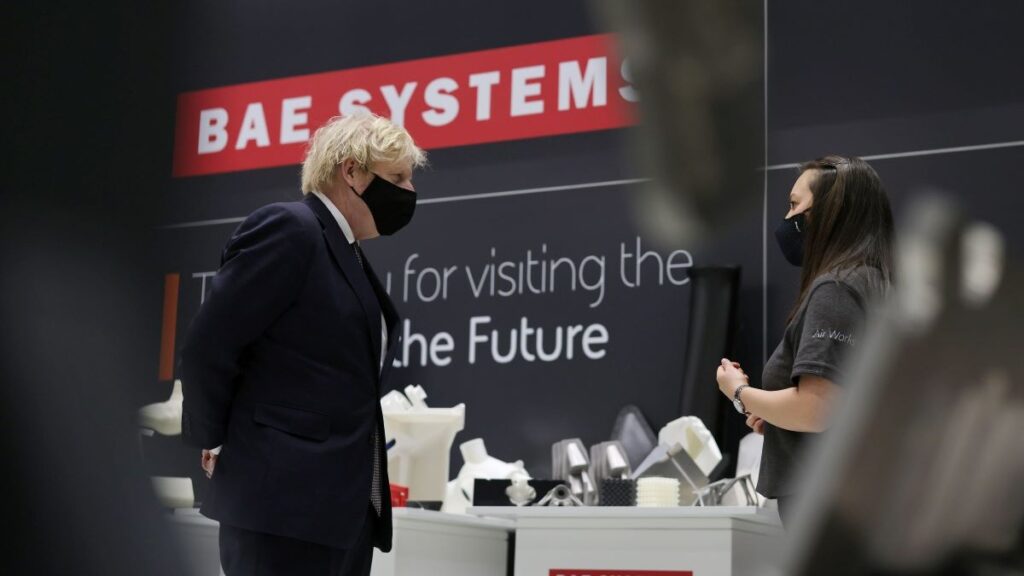 The next day prime minister Boris Johnson was in Lancashire on Monday, where he outlined future plans for the army while visiting an armaments manufacturer.
While visiting BAE Systems' facility in Preston, Mr. Johnson claimed that overhauling the armed forces will make them "more valuable" to the UK's allies.
He said: "What we are doing is giving them the kit now that they will need to make themselves all the more useful, all the more, I'm afraid, lethal, and effective around the world.
5 – THE SCANDAL BETWEEN JOHNSON AND BAE SYSTEMS
Opposition MPs have raised concerns about conflicts of interests between Geidt's "inappropriate" commercial roles and his new job as Johnson's ethics advisor» the British site OpenDemocracy reported in April.
BAE has been repeatedly criticized for selling weapons to Saudi Arabia, and was recently accused of being party to war crimes in Yemen added.
It is also a major government contractor and has won billions of pounds worth of deals from ministerial departments since Boris Johnson became prime minister. They include a series of Test and Trace contracts from the Department of Health, valued at more than £7.9m.
Worse than Ukraine! In Yemen "Catastrophic" Hunger due to Saudi War: 400,000 Toddlers at "Risk of Death"
Records produced by Transparency International also show that BAE Systems has enjoyed more access to government ministers than any other company in the past ten years, with at least 209 meetings since 2012. This year, it has also employed two private lobbying firms, including Finsbury Group – an agency founded by the brother of former Conservative home secretary, Amber Rudd.
Labour MP Margaret Hodge, the former chair of the public accounts committee said: "It is inappropriate for the ethics adviser, Lord Geidt, to have commercial interests that could come into conflict with the role. Especially when those interests relate to a company in receipt of major public contracts and millions in taxpayers' money."
BAE Systems sold £15bn worth of arms and services to Saudi Arabia's military during the country's 2015-2020 bombing campaign in Yemen. In 2019, it was accused of being party to war crimes, after schools, hospitals and civilians were hit further wrote Open Democracy.
A court ruled that UK sales to the repressive regime were unlawful, saying the government had made no attempt to assess "whether the Saudi-led coalition had committed violations of international humanitarian law in the past, during the Yemen conflict".
The arms company agreed to pay out £300m in penalties in 2010, following long-running corruption investigations. It admitted to false accounting and making misleading statements in relation to allegations of corruption.
A number of former officials and senior civil servants have taken up posts at the BAE system after leaving office. The 'revolving door' between government and business has been criticized recently during the scandal over David Cameron's lobbying for the failed financier Lex Greensill.
6 – AUSTIN'S RAYTHEON FOR JAVELIN ROCKETS
The Pentagon has awarded a Lockheed Martin-Raytheon joint venture $309 million in contracts for the Javelin program, funding a total of 1,300 anti-tank missiles that will backfill US stocks that have been provided to the Ukrainian military, the companies announced in may according to Breaking Defense.
This happened although US Secretary of Defense Lloyd Austin was a consultant to Raytheon itself, which sponsored the CEPA militarization plan of Eastern Europe against Russia.
In addition to the Javelin systems meant to replace those sent to Ukraine, the two contracts — a $238 million deal announced on May 6 and a $71 million award from May 12 — also include orders for international customers including Norway, Albania, Latvia and Thailand, the Lockheed-Raytheon joint venture said in a statement.
WEAPONS LOBBY – 5. NWO's Warfare Plan against Russia and Counter-Information. CEPA Project from Washington with NATO-EU & Defense Corporations
The United States has provided more than 5,500 Javelin shoulder-mounted anti-armor systems since the beginning of the Biden administration, with most deliveries occurring after Russian forces invaded Ukraine on Feb 24, Breaking Defense wrote.
Lawmakers have put pressure on Pentagon leaders to ensure that it can recoup the weaponry it has provided to Ukraine, specifically its stocks of Javelins and Raytheon's Stinger man-portable anti-aircraft systems. On May 6, Pentagon acquisition chief Bill LaPlante told reporters that a Javelin contract was "imminent," with a Stinger award expected by the end of May.
Italy Halts Bombs for UAE-KSA used in Yemen. Years after Protests against BlackRock's Fundings
Lockheed CEO Jim Taiclet told CBS News earlier this month that Lockheed hopes to ramp up Javelin production from 2,100 to 4,000 units per year. However, the contract announcement contained few details on whether funds from these awards will give Lockheed the money it needs to begin expanding its production facilities and purchasing additional materiel from suppliers.
"We remain committed to delivering this exceptional weapon system to warfighters around the globe," said Marek Wolert, Javelin Joint Venture president and program director at Raytheon Missiles & Defense. "Raytheon is working proactively with our supply chain to ensure our readiness and ability to support this urgent need."
7 – THE AMERICAN WEAPONS BUSINESS
When Russia launched its invasion of Ukraine at the end of February, the stock prices of many of the world's biggest arms manufacturers spiked.
"US Military-Industrial Complex Wants War in Ukraine" Gabbard told. As the Nightmare of CEPA's Plan
«As the first Russian tanks rolled across the border, investors flocked to companies, including Raytheon, Northrop Grumman, Thales, Lockheed Martin, and General Dynamics» pointed out ABC in a journalistic investigation.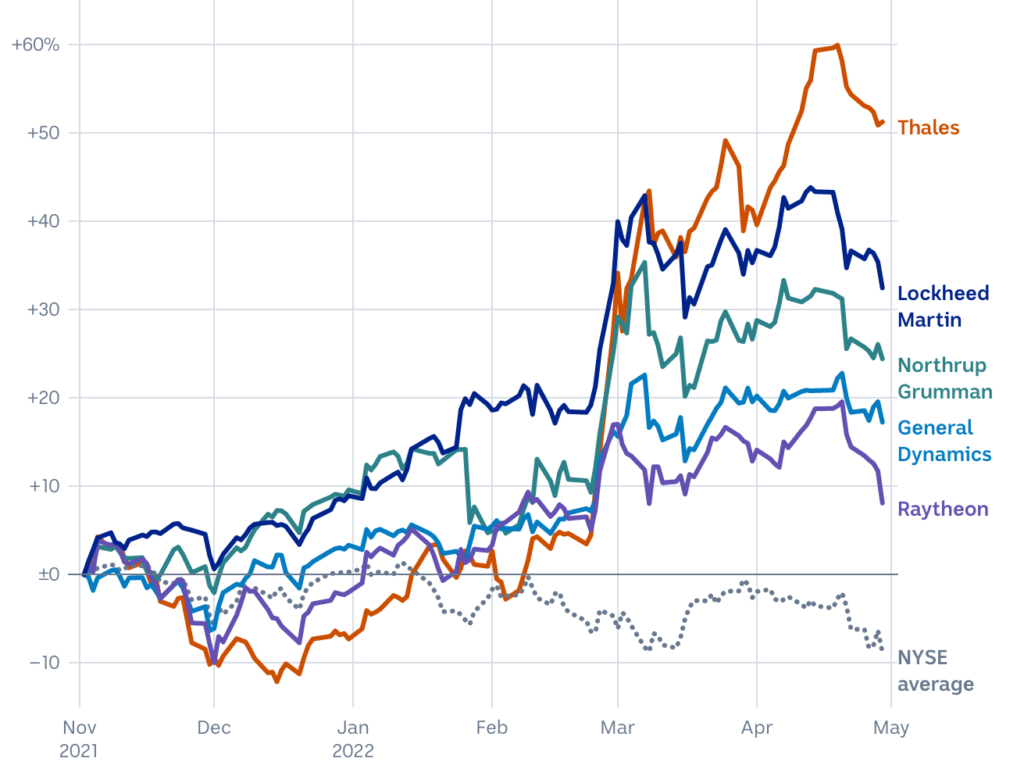 Billions of dollars worth of military hardware have already been shipped to Ukraine from all over the world, including from Australia.
The United States, alone, has provided more than $US3 billion ($4.1 billion) in military aid, and last week President Joe Biden asked Congress for about $US20 billion more to last through September.
NATO countries and Western allies, including Canada and Australia, have lined up to help. The Australian Defence Force's contribution so far has included six M777 towed howitzers and 20 Bushmaster four-wheel-drive armored vehicles, tactical decoys, uncrewed aerial and uncrewed ground systems, rations, and medical supplies.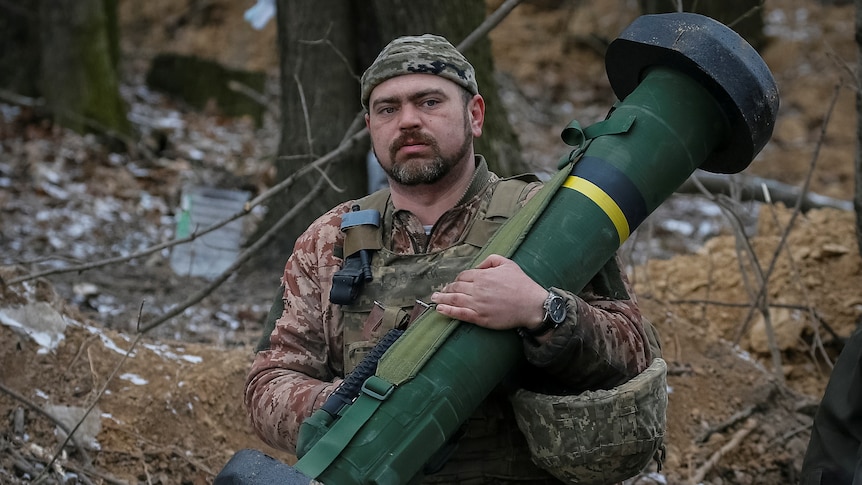 Other weapons delivered or on their way include tanks, air-defense systems, howitzers, guided anti-tank and anti-aircraft missiles, helicopters, armored Humvees and personnel carriers, drones, small arms, command-detonated Claymore anti-personnel mines, and more.
Most famously, Ukraine has received — and reportedly made effective use of — large shipments of high-tech, self-guided and shoulder-fired Javelin anti-tank missiles.
LOBBY ARMI – 1: BLACKROCK E GLI ALTRI AFFARISTI DELLE GUERRE USA
The Javelins are sought-after because of their sophisticated tracking systems, which allow users to take cover immediately after firing, and their ability to hit targets from above.
Since the beginning of February, the US committed to giving Ukraine 5,500 Javelin systems, which are produced by US defense contractors Raytheon and Lockheed Martin and are each worth about $US178,000.
"Saint Javelin" has become a meme in Ukraine and, during a tour of Lockheed Martin's factory, Mr. Biden said Ukrainian parents were naming their children "Javelin" or "Javelina" because of the weapons' successes.
8 – NUCLEAR AND HUNGER NIGHTMARES WANTED BY NATO
"We must be prepared that it will last years," NATO Secretary Jens Stoltenberg said of the war in Ukraine, suggesting that "not to weaken support for Ukraine, even if the costs are high, not only in terms of military support but also due to of the increase in energy and food prices ".
According to Stoltenberg, "the costs of food and fuel are nothing compared to those paid daily by Ukrainians on the front line. Also, if Russian President Vladimir Putin were to achieve his goals in Ukraine, such as when he annexed Crimea in 2014," we should pay an even greater price," he warned, failing to explain that Norge Bank, of which he will become president in September, will do big business on the arms corporations he is a shareholder of.
STOLTENBERG: NATO's Puppet for Gates-NWO in Pandemic as in Ukrainian War. Gavi Vaccines & Norges Bank Weapons Affairs on Yemen's Bombs
NATO must be ready to use nuclear weapons in the event of an atomic attack by Russia. This is what was stated by the chief of staff of the German Air Force (Luftwaffe), the air squad general Ingo Gerhartz, as reported by the newspaper "Bild".
In particular, Gerhartz said: "For credible deterrence, we need both the means and the political will to activate nuclear deterrence if necessary." It should be remembered that two years ago the Kremlin approved a decree that allows the Armed Forces to use nuclear power even in the event of an attack with conventional weapons on Russian territory.
PUTIN CELEBRATES THE VICTORY. "War in Ukraine against Nazis and NATO Plans". Nuclear Nightmare for NWO
In addressing Russian President Vladimir Putin, the Luftwaffe Chief of Staff warned the Kremlin owner not to "joke" with NATO. By 2030, Gerhartz pointed out, the Atlantic Alliance will have "over 600 modern fighters in the Baltic Sea region, then there are US planes".
9 – THE VERY DANGEROUS IRON ARM IN THE BALTIC SEA
Russia on Monday (20 June) demanded that Lithuania immediately lift a ban on the transit of some goods to the Russian exclave of Kaliningrad. Russia's foreign ministry summoned Lithuania's top envoy to Moscow to deliver a protest while the Kremlin said the situation was beyond serious.
"The situation is more than serious," Kremlin spokesperson Dmitry Peskov told reporters. "This decision is really unprecedented. It's a violation of everything."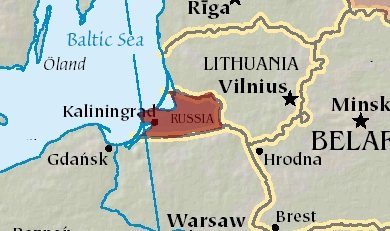 Russia's foreign ministry demanded Vilnius reverse what it cast as an "openly hostile" move immediately.
"If cargo transit between the Kaliningrad region and the rest of the Russian Federation via Lithuania is not fully restored in the near future, then Russia reserves the right to take actions to protect its national interests," it said.
Lithuanian authorities banned the transit of goods that are sanctioned by the European Union across its territory, which includes the only rail route between mainland Russia and the Kaliningrad exclave on the Baltic Sea. Banned goods include coal, metals, construction materials, and advanced technology.
This risks being the fuse ready to ignite a new outbreak of war in Europe.
Fabio Giuseppe Carlo Carisio
© COPYRIGHT GOSPA NEWS
prohibition of reproduction without authorization 
follow Gospa News on Telegram
---
MAIN SOURCES
Putin's Friends Bulletin Built by Italian Intelligence to Strike Counter-Information as Wanted by NATO & Weapons Lobby
WUHAN-GATES – 50. The Italian Boss of Obama's Coronavirus. Ukraine Laboratories Funded by former CIA Director Leon Panetta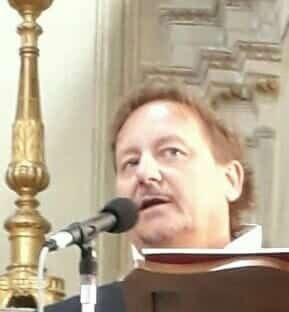 Fabio is Director and Editor of Gospa News; a Christian Information Journal.
Fabio Giuseppe Carlo Carisio, born on 24/2/1967 in Borgosesia, started working as a reporter when he was only 19 years old in the alpine area of Valsesia, Piedmont, his birth region in Italy. After studying literature and history at the Catholic University of the Sacred Heart in Milan, he became director of the local newspaper Notizia Oggi Vercelli and specialized in judicial reporting.
For about 15 years he is a correspondent from Northern Italy for the Italian newspapers Libero and Il Giornale, also writing important revelations on the Ustica massacre, a report on Freemasonry and organized crime.
With independent investigations, he collaborates with Carabinieri and Guardia di Finanza in important investigations that conclude with the arrest of Camorra entrepreneurs or corrupt politicians.
In July 2018 he found the counter-information web media Gospa News focused on geopolitics, terrorism, Middle East, and military intelligence.
His articles were published on many international media and website as SouthFront, Reseau International, Sputnik Italia, United Nation Association Westminster, Global Research, Kolozeg and more…
His investigations was quoted also by The Gateway Pundit, Tasnim and others
He worked for many years for the magazine Art & Wine as an art critic and curator.
ATTENTION READERS
We See The World From All Sides and Want YOU To Be Fully Informed
In fact, intentional disinformation is a disgraceful scourge in media today. So to assuage any possible errant incorrect information posted herein, we strongly encourage you to seek corroboration from other non-VT sources before forming an educated opinion.
About VT
-
Policies & Disclosures
-
Comment Policy
Due to the nature of uncensored content posted by VT's fully independent international writers, VT cannot guarantee absolute validity. All content is owned by the author exclusively. Expressed opinions are NOT necessarily the views of VT, other authors, affiliates, advertisers, sponsors, partners, or technicians. Some content may be satirical in nature. All images are the full responsibility of the article author and NOT VT.