Healing Addictions, Solutions at the Spiritual Root Cause (Part 10 of 11) is written by Steve Robertson
This article, "Healing Addictions, Solutions at the Spiritual Root Cause", will attempt to deep dive into the root causes of addictions and then offer spiritually empowering solutions from which one can forever free themselves to heal and become more authentically whole to live in a more loving state of miracles that are always and ever-present.
This tenth article is part of an eleven-part series.  In order to access each additional chapter in this series, soon to be published as a book, you are encouraged to Buy Me a Coffee on Ko-Fi.com in order to receive an access code to the next article in the series.
As you read ahead and potentially find value in this article, please consider your support of my work and that of my organization Project Peace On Earth by:   
When you support my work,  I will send you the access code to the next article in the series and also send you a free downloadable copy of his book The Power of Choice, Success and Your Life Purpose.
(Part 10)
SUGGESTED REMINDERS, STAY ON COURSE TOWARD ENLIGHTENMENT 
Start reading additional inspirational books that call to your attention and heart.
Write your thoughts in the books you read. Underline important points that call to your attention. Remember, Remember, Remember these inspired truths and act from them.
Spend regular time in nature and listen deeply to it.
Listens to Deeply Inspiring Music, Here's Why:
Listen to beautifully inspiring music. There are many free d o w n l o a d s o f s u c h m u s i c o n o u r w e b s i t e : ProjectPeaceOnEarth.org
Be Mindful of Your Thoughts and Spoken Words
The Power of Your Thoughts and Spoken Words part I by Steve Robertson
Part II, How Thoughts and Spoken Words Co-Create, the Science of It
Spend Quiet Time With Yourself Every Day.
Be Mindful of What You Expose Yourself and Family to
Turn the TV off and if you can, keep it off.
Be very mindful of the films you choose to watch and any other media you watch or listen to. Carefully choose to watch or expose yourself only to media and entertainment that is loving, empowering and educational.
https://veteranstoday.com/2017/10/25/herding-cattle-into-the-seductive-depravity-of-hollywoods-great-karmic-corral/
Pay attention to your breath and breathe consciously moment after moment.
Drink lots of water every day – 8 or more glasses (check with your medical advisor).
Be mindful of what you eat and give prayers of thanks for your food at each meal.
Avoid eating anything that turns into sugar (rice, bread or cereals)  or drinking alcohol.
Attempt eating a plant-based diet for a while and see how you feel with it.  I find the Beyond Meat burger to be amazing.
Meditate After Waking and Before Bed
Meditate in the morning, immediately upon waking up and then meditate before you go to sleep. Meditation is what brings a clearing and an awareness of the present moment to yourself. It is a beautiful way to begin and frame each experience of your day. By meditating at night, just before you go to sleep you clear yourself to be a dream catcher.
Be Grateful. Each Moment is a Choice
Be grateful every single moment of the day and see everything as a miracle. Tell people you love them, allot!
Give people Hugs, lots of them!
Look people in the eyes and connect with them with great sincerity.
Listen carefully to what people say, be very present and PAY ATTENTION to them.
The Difference Between Religion and Spirituality
Speak only when you are guided to do so.
Be kind, caring, considerate and respectful of everyone and everything. Speak lovingly, kindly and compassionately to all, all the time.
Laugh A Lot and Then Some More…
https://veteranstoday.com/2018/07/21/religion-are-the-jokes-on-us/
Help those who are challenged and homeless in any way that you can. This could be expressed through the simple kindness of extending a smile or having a conversation with them or sharing with them food. Share with them an article of clothing that you have intentionally carried with you in your car for this purpose.
Be very reverent towards yourself, fellow persons, mother earth and all of it's living creatures. Choose to BE LOVING, because this is the ultimate choice of the Heretic and the PRIMARY LIFE LESSON TO LEARN.
Thrive and Choose to Live Prosperously
You are powerful beyond all measure!!!
You will succeed in discovering and realizing your life purpose!!!
Fulfilling your Life Purpose Mission is the only reason that you, or any of us, are here.
A Suggested Big Picture of How It All Works
Part II: The Cosmology of Consciousness…The Monkey Mind, Excalibur, and Your Leaps of Faith
May you go out into the world and shine the love of your heart to everyone and everything.
You can and will make a difference!!!
The Salvation of the world, according to A Course in Miracles,  depends on YOU!!!
"When you are inspired by some great purpose, some extraordinary project, all your thoughts break their bonds: Your mind transcends limitations, your consciousness expands in every direction, and you find yourself in a new, great, and wonderful world. Dormant forces, faculties, and talents become alive, and you discover yourself to be a greater person by far than you ever dreamed yourself to be." Patañjali, the compiler of the Yoga Sutras (Sanskrit: 150 BCE)
Step out to the edge of your heart's greatest calling, brave and courageous adventurer. Still, your mind, listen deeply within, follow your intuition and take the leap of faith that will always bridge you from fear of the unknown to the KNOWN and Holy Grail of your life's loving purpose and realized bliss.
(READ MORE by in Part 11 – "Summary of the Journey" thru Buying Me a Coffee on Ko-Fi.com
Thanks for your gracious time and consideration in reading my article.
We would love to hear your comments:
How your life has been touched and/or transformed by this article.
How has music helped to inspire your life?
PLEASE EMPOWER YOUR LIFE AND SUPPORT MY EFFORTS 
Discover Your Life Purpose and Empower Your Life.  Inspire a family member or a friend by purchasing and/or gifting my eBook:  "The Power of Choice, Success and Your Life Purpose."  ONLY $5.00  
***Includes special bonus video materials***
Multiple Copies
Option 1 (1 download) $5.00 USD
Option 2 (multiple downloads) $11.00 USD
Option 3 (multiple downloads) $11.00 USD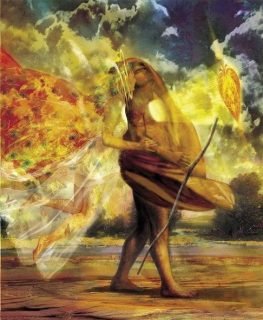 See what Top National best selling authors say about his book just below. 
Multiple Copies
Option 1 (1 download) $5.00 USD
Option 2 (multiple downloads) $11.00 USD
Option 3 (multiple downloads) $11.00 USD
Your $5.00 book purchase helps to support the articles that Steve writes for VT and also what he has accomplished through ProjectPeaceOnEarth.org.
National Best Selling Authors proclaim: 
Steve's book is … "A TEXTBOOK for the Soul" – Caroline Myss, Ph.D. (National Best-Selling author of "Anatomy of the Spirit" – Oprah guest some 40 times)
"Robertson is a Living Avatar on whose shining example our future may depend."– Larry Dossey, MD (National Best Selling Author of "One Mind" and "The Power of Prayer" former Executive Director of the National Institute of Health, Alternative Medicine Division )
Steve's book uses…"beautiful metaphors and analogies that lead in every instance to awareness, self-responsibility, and our Divinity" – Gary Zukav (National Best Selling author of "Seat of the Soul" 10 million copies and Oprah Guest some 40 times)
Steve's book is …"required reading for anyone who has longed to find and fulfill their life purpose." – Don Miguel Ruiz, MD (National Best selling author of "The Four Agreements" – 4 million plus sold, Oprah Guest)
Steve's book…"can empower you and help you bring your gifts to the world." – Jack Kornfield, Ph.D. (National Best Selling Author of "A Path With Heart" – Founder of the Mindful Meditation movement)
Steve's book offers …"rich and spiritually authentic insights into the meaning of life and how to find and live your life purpose." – Gerald (Jerry) Jampolsky, MD and Diane Cirincione, Ph.D. (National Best Selling Authors, Pioneers in the Human Potential Movement – Oprah Guest)
Steve's book is …"a treasure trove of timeless wisdom and spiritual guidance." – Alexander Astin, Ph.D. (Considered the world's most widely quoted person on Higher Education. Co-founder of UCLA Higher Education Research Institute. Best Selling Author of "Cultivating the Spirit".)
Steve's book…"looks at all of us in the eye and asks us to awaken to our own power and force."  Jack Healey, former Executive Director of Amnesty International. Former Franciscan Monk.
Additional Video Reference materials:
ATTENTION READERS
We See The World From All Sides and Want YOU To Be Fully Informed
In fact, intentional disinformation is a disgraceful scourge in media today. So to assuage any possible errant incorrect information posted herein, we strongly encourage you to seek corroboration from other non-VT sources before forming an educated opinion.
About VT
-
Policies & Disclosures
-
Comment Policy
Due to the nature of uncensored content posted by VT's fully independent international writers, VT cannot guarantee absolute validity. All content is owned by the author exclusively. Expressed opinions are NOT necessarily the views of VT, other authors, affiliates, advertisers, sponsors, partners, or technicians. Some content may be satirical in nature. All images are the full responsibility of the article author and NOT VT.